Five Things You Need to Know to Start Your Day
Get caught up on what's moving markets in Asia.
By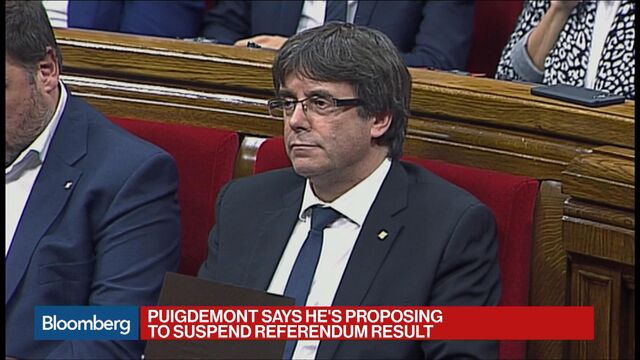 Want to receive this post in your inbox every morning? Sign up here.
High profile Chinese speakers on deck, Puigdemont seeks dialogue, and U.S. stocks hit new highs. Here are some of the things people in markets are talking about.
Lam and Xi
Hong Kong Chief Executive Carrie Lam will deliver her first formal policy address since becoming the city's first female leader in July at noon Tokyo time. She's expected to announce a public-private partnership to expand access to housing for first-time buyers. On the mainland, the central committee of the Chinese Communist Party is slated to conclude its final meeting ahead of a leadership reshuffle later this month. President Xi Jinping will speak, while the party is also poised to issue a communique that may serve as a prelude for the Oct. 18 congress. It's a relatively light day for economic data. Core machine orders in Japan are forecast to grow 1 percent month-on-month in August on the heels of an 8 percent jump the prior print. The October reading of Westpac Consumer confidence for Australia is also due out. There'll be a dose of Fedspeak during Asian trading hours, with Dallas Fed President Robert Kaplan scheduled to deliver remarks at 9:00 a.m. Tokyo time.
Catalonian Uncertainty Continues
Catalonian President Carles Puigdemont announced his intention to pursue talks with the Spanish government rather than immediately declare independence during a speech to the assembly on Tuesday. The region allegedly voted in favor of independence in a referendum that has been declared illegal by Spanish constitutional courts. The Spanish government responded by saying the Catalan president "has taken his irresponsibility to the absolute extreme." Hardline allies who wanted Puigdemont to assert the region's independence were also disappointed. The euro hit its highs of the day after Puigdemont deferred an immediate secession; the iShares MSCI Spain Capped ETF also spiked. Ahead of Puigdemont's address, Spain had reportedly readied special police forces to arrest the president if he declared independence.
Fresh Records
The S&P 500 Index and Dow Jones Industrial Average set all-time closing highs on Tuesday with consumer and financials leading the way up. Nobel Prize-winning economist Richard Thaler, for his part, said the stock market's seeming complacency is making him nervous. Shares of Wal-Mart Stores Inc. paced gains on major benchmarks after the company forecasted e-commerce sales growth of 40 percent in its next fiscal year. Sears Canada, on the other hand, announced plans to liquidate. West Texas Intermediate futures rose 2.7 percent after OPEC signaled that more countries may join a deal to cap production, with Saudi Arabia also planning to curb sales next month.
Heavy Metal
The scandal engulfing Kobe Steel rippled through markets on Tuesday. This  past weekend, the company admitted that staff falsified data about the strength and durability of aluminum and copper products delivered to more than 200 companies. Shares plunged and five-year credit default swaps widened to nearly 240 basis points, their highest level in 19 months, as Japanese markets played catch-up after the Monday holiday. The revelation sent Kobe's biggest customers – which include many large automakers – scrambling to evaluate their potential exposure. The firm's woes are the latest in a series of scandals that have tarnished Japan Inc.'s reputation in recent years.
Futures Mixed
Nikkei 225 futures are trading marginally to the downside while S&P/ASX 200 futures inch higher. Iron ore futures are recovering in early trading after tumbling in recent weeks amid concern that Chinese demand will wane substantially this winter as the world's second-largest economy follows through on steel output cuts. The MSCI Asia Pacific Index closed at its highest level in nearly a decade in its previous session.
What we've been reading
This is what caught our eye over the last 24 hours.
Before it's here, it's on the Bloomberg Terminal.
LEARN MORE