FCA to End Case Against Ex-Barclays Executive Over Qatar
By
Regulator told Richard Boath it has closed investigation

Boath was charged by the U.K. Serious Fraud Office in June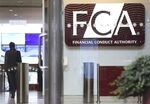 U.K. regulators dropped a probe into a former Barclays Plc executive over a 2008 fundraising by the bank with Qatar, despite related criminal charges against him in the case, according to three people with knowledge of the situation.
The U.K. Financial Conduct Authority told Richard Boath in July, the same day he appeared in a London criminal court for the first time, that it wasn't pursuing a case against him, the people said, who didn't want to be identified because the decision was private. Boath was first interviewed by the regulator in relation to the probe in 2013.
Boath, the former European head of Barclays's financial institutions group, was one of four former executives charged with fraud in June by the U.K. Serious Fraud Office. The case relates to 322 million pounds ($425 million) in fees the bank paid the Qatar Investment Authority and a $3 billion loan facility it made available to the nation as part of side deals to a 12 billion-pound fundraising from the Qataris and others in 2008.
Spokesmen for Boath and the FCA declined to comment. The Financial Times reported the FCA decision Tuesday.
The FCA issued so-called preliminary investigation reports to a number of ex-Barclays executives a few years ago before staying the cases while the SFO decided whether to take criminal action. The watchdog re-started its enquiries this year when Barclays handed over 100,000 new documents after abandoning a defense that the material was covered by attorney-client privilege.
Parallel investigations by the FCA and the SFO often result in long delays and sometimes different findings, attracting criticism from defendants and lawyers. Investigations by the FCA over Libor-rigging were put on hold for several years in a number of cases as the regulator was forced to wait for SFO outcomes.
The charges have also delayed Boath's employment suit against Barclays over his dismissal. A hearing that was scheduled to go ahead Wednesday will now take place in December.
Before it's here, it's on the Bloomberg Terminal.
LEARN MORE