Balance of Power: Trump's Turkey Dilemma Isn't Going Away
By and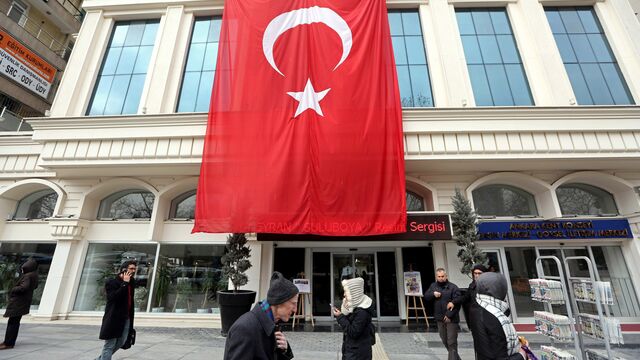 All the displays of bonhomie between President Donald Trump and his Turkish counterpart, Recep Tayyip Erdogan, couldn't keep buried years of gathering resentment between Washington and Ankara.
Tensions between the two NATO allies burst into public view this week as the U.S. ambassador froze visa applications over Ankara's efforts to detain Turkish staff at its diplomatic outposts. Turkey reciprocated, sending the lira tumbling. Erdogan has slammed the U.S. move as "very saddening," saying "Turkey is a state of law, not a tribal state."
While the White House and U.S. Secretary of State Rex Tillerson have so far been silent, the episode belies Trump's declaration just last month the countries were "as close as we've ever been." Mistrust has been building over diverging military goals in Syria and Erdogan's widening purge at home after an attempted coup last year. And with U.S. power in the region apparently in retreat, Turkey has been searching for new friends, from Russia to China and Iran.
There's little sign of relief. An Istanbul prosecutor revealed yesterday another U.S. consular employee had been "invited" to testify.

Sign up to receive the Balance of Power newsletter in your inbox, and follow Bloomberg Politics on Twitter and Facebook for more.
Global Headlines
Spain on edge | Catalonia's regional parliament will consider declaring independence today, risking a backlash from Madrid, the threat of economic meltdown and international isolation. The secessionists are still hoping to force Spain into negotiations and have opened a second front in their campaign, offering to forge a coalition with the opposition Socialists to oust Prime Minister Mariano Rajoy.
Trump's tax reform liability | The president's allies fear his feud with Republican Senator Bob Corker risks dashing the party's tax overhaul hopes and dealing the administration a crippling blow. Corker, a member of the Budget Committee and a deficit hawk, has little incentive to compromise because he plans to retire when his second term expires in 2018. Jennifer Jacobs and Justin Sink look at what a tax plan failure would mean for Trump.
Google's got Russian ads, too | The Alphabet Inc. search giant discovered that Moscow-linked groups bought $4,700 of ads during last year's U.S. presidential campaign. It's reviewing another $53,000 worth for evidence of Russian electioneering. The disclosures ensure Facebook and Twitter won't be the only ones in the hot seat next month when the three technology companies are expected to testify before congressional committees.
Raising Brexit stakes | U.K. Prime Minister Theresa May has outlined contingency plans for leaving the European Union without a deal. Her intervention comes at a sensitive time for divorce negotiations, with the fifth round under way and substantial disagreements remaining on Britain's financial settlement. But it won her public backing from Brexit supporters in her cabinet, and there's a danger she could now walk away from the talks as a show of strength to try and bring her unruly Tory party under control. 
China spends big in Cambodia | Chinese money is helping Prime Minister Hun Sen boost both economic growth and his 32-year hold on power before elections next year. China is Cambodia's biggest donor, foreign investor and top trading partner. That fund influx gives Hun Sen leverage at home, where he's cracking down on dissent, and in return provides Beijing with a backer in Southeast Asia against criticism of its territorial expansions in the disputed South China Sea.
And finally... Melania Trump broke with her usual reserve in a very public tussle with her husband's first wife. Ivana Trump, who was married to the president from 1977 to 1992, told ABC's "Good Morning America" that she has a "direct number" to Trump and offers him advice during regular chats, adding  "I'm basically first Trump wife. I'm first lady, OK?" Melania's White House team dismissed the comments as "attention-seeking and self-serving noise" aimed at selling books. Ivana's memoir chronicling her marriage to the president and messy divorce is out today.

— With assistance by Karl Maier
Before it's here, it's on the Bloomberg Terminal.
LEARN MORE