BAE to Cut Almost 2,000 Jobs as Eurofighter Backlog Dwindles
By and
Order interest in jet has failed to result in firm contracts

U.K. company will also eliminate posts at warship, cyber arms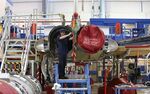 BAE Systems Plc will eliminate almost 2,000 jobs over three years as the U.K. company struggles to secure new orders for the Eurofighter Typhoon warplane and slims down its naval ships and cyber-security businesses.
Despite increasing tensions across the globe, at least 10 percent of posts at BAE's military-aircraft unit will go, mostly in northwest England, the company said Tuesday. Hundreds of positions at the maritime division as well as up to 150 at the cyber arm will also be eliminated.

BAE is focused mainly on big-ticket defense programs such as aircraft carriers, which have long lifespans and a limited range of potential buyers. While Europe's biggest defense contractor last month won an outline order for 24 Eurofighter jets from Qatar worth as much as 8.6 billion pounds ($11 billion), that deal may take months or years to seal. At the same time, a long-awaited follow-on contract from Saudi Arabia has so far failed to materialize.
BAE needs to align its workforce "more closely with near-term demand," Chief Executive Officer Charles Woodburn said in the release. "Those actions are necessary and the right thing to do for our company, but unfortunately include proposed redundancies at a number of operations."
As part of the adjustment, output of the Eurofighter will fall, BAE said, without specifying the revised build rate. Qatar's outline deal for six Hawk jet trainers, which accompanied the Typhoon agreement, will be included in future planning, extending production of that model by a further 12 months at a reduced level.
BAE said in August it was reviewing the Typhoon program and that even if a new order was sealed, it would take at least 24 months to boost production. Jobs linked to the support of Panavia Tornado ground-attack aircraft, due to be retired in 2019, will also be cut. In total, some 1,400 jobs will be lost at the warplanes business, which employs about 12,500 people.
Growth prospects are focused on a ramp up in production of the Lockheed Martin Corp. F-35, for which BAE makes the rear fuselage and tail. Globally, the London-based company has a workforce of about 83,000 people.
Where 1,915 Jobs Are Getting Cut
Warton and Samlesbury (Eurofighter) 750
Brough (Hawk) 400
RAF Marham and Leeming (Tornado) 245
Portsmouth and Solent (naval) 340
London, Guildford (cyber) 150
Other 30
Shares of BAE fell as much as 1.4 percent before paring losses to a 0.3 percent decline to 616.5 pence as of 2:45 p.m. in London. The stock has gained 4.2 percent this year, valuing the company at 19.6 billion pounds.
BAE said it continues to anticipate additional Eurofighter and Hawk orders, and that the Qatar deal should sustain Typhoon production "well into the next decade." The preliminary order, announced Sept. 17, came as a surprise, especially since Qatar had already agreed to buy 24 Rafale jets from Dassault Aviation SA and as many as 36 Boeing Co. F-15s.
Given tensions in the region, it's not clear what impact the Qatar deal might have on the anticipated Eurofighter contract from Saudi Arabia, UBS analyst Celine Fornaro said. The kingdom, already the Typhoon's biggest export customer, is seeking to isolate its Gulf neighbor over ties to Iran. BAE didn't mention Saudi order prospects in its statement.
The British manufacturer reiterated that 2017 earnings are likely to be 5 percent to 10 percent higher than last year's 40.3 pence per share. Given the restructuring moves, the stable forecast suggests "some out-performance exists somewhere," Sandy Morris, an analyst with Jefferies, said in a note.
In addition to BAE, the Eurofighter consortium includes Rome-based Leonardo SpA, and the German and Spanish divisions of Toulouse, France-based Airbus SE. While the plane was built to maintain Europe's ability to produce an air-superiority warplane without U.S. involvement, export potential has always been limited to the very richest nations. The jet sells for about 90 million pounds, though servicing and other add-ons can quadruple that value.
Eurofighter assembly lines in Germany and Spain are already scheduled to close at the end of next year, while Italian production has been buoyed by a 28-plane deal from Kuwait agreed in 2016.
The U.K. will "do whatever we can to fly the flag for British exports," Business Minister Claire Perry said Tuesday to lawmakers, adding that although government is disappointed in the job losses, they are part of competition and it would be wrong for the state to interfere.
Before it's here, it's on the Bloomberg Terminal.
LEARN MORE