What Contagion? Only Turkey Assets Suffer the Nation's Woes
By , , and
Lira rises as falling most in the world on Monday on U.S. spat

Most emerging stocks and currencies are relatively unmoved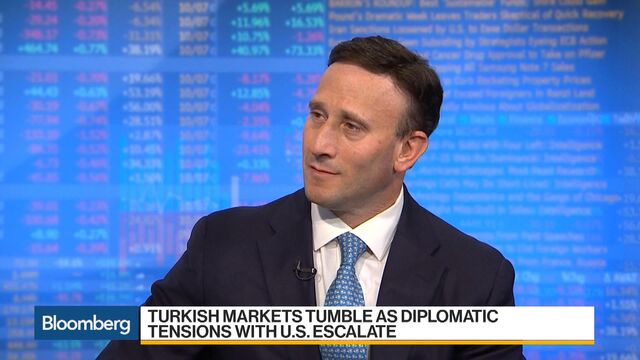 For a moment, it looked like the kind of event that could trigger a wider selloff across developing markets.
The lira and Turkey's stocks retreated the most in the world after the nation became embroiled in a diplomatic spat with the U.S. Given the growing number of voices saying this year's emerging-market rally was headed for a fall amid frothy valuations and waning central bank accommodation, some traders might have thought this was the catalyst for a correction.
Read More: Erdogan's Escalating Feud With U.S. Hammers Turkish Markets
But it wasn't. While damage was done to Turkish assets, most other emerging-market currencies and stocks showed little reaction. Many strategists were similarly sanguine, underscoring the changed reality in developing markets. Not only did the lira rebound as much as 0.4 percent on Tuesday, the Philippine peso was the sole emerging currency to retreat as of 11:11 a.m. in London. The iShares JPMorgan EM Local Government Bond Exchange-Traded Fund received net inflows for a fourth day Monday.

"Emerging markets are a lot more nuanced" than they were about 10 years ago, said Christopher Shiells, a London-based senior analyst at Informa Global Markets. "A lot of the emerging markets have gone through quite a few structural reforms. There isn't that same level of panic that we had in 2006, the investor base is a lot more spread out now and they're willing to put up with political risks for returns."
That's not likely to change as long as much of the developed world offers near-zero interest rates on sovereign bonds. The subsequent hunt for yield has seen foreigners pile into emerging bonds.
They now own a record $785 billion, according to Deutsche Bank AG, and the option-adjusted spread on the Bloomberg Barclays EM USD Aggregate Index, which takes into account the impact of early redemption on cash flows, has declined to a decade-low of 2.4 percentage points over Treasury yields. That's more than 100 basis points below the 10-year average.
Investors "know their geopolitical risks," Russ Koesterich, who helps manage the $78 billion BlackRock Global Allocation Fund from Princeton, said in an interview with Bloomberg TV. "As long as the global economy keeps expanding, and monetary policy remains accommodative, then people will step in and buy these countries."
Turkey's Problem
Turkey's inability to roil the broader emerging-market gauges isn't new, at least judging by regression analysis. Over the past 10 years, developing-market currencies have moved only 0.36 percent for every 1 percent gyration in the lira.

That's not to say there's no reason to worry, said Trieu Pham, a London-based credit-strategy analyst for emerging markets at MUFG Securities. "This is specifically a Turkey issue, but this might make investors more aware of political risk in general," he said.
Take Brazil, where the risk of political upheaval remains elevated. The nation's real declined 1 percent on Monday for the second-biggest loss in a basket of emerging currencies tracked by Bloomberg. In South Africa, where the ruling party faces a divisive succession contest, the rand slipped 0.4 percent, but it has since recouped almost all its losses.
Read More: Negatives Mount in Emerging Markets: Cheat Sheet for Bears
That heightened awareness of political risk, coupled with tighter monetary policy from a new Federal Reserve chairman and changes to the U.S. tax code "may have a negative impact on emerging market currencies going forward," Pham said.
But those issues would likely have to derail growth in the global economy, which continues to show signs of acceleration from China to the U.S. and Europe, before they create troubles across emerging markets.
"Earnings growth in emerging markets is robust, it's holding up well, fundamentals are improving," said Michael Bolliger, the head of emerging-market asset allocation at UBS Wealth Management's chief investment office in Zurich, which manages $2.3 trillion. "Global growth is solid and strongly synchronized. This gives us confidence, notwithstanding temporary setbacks here and there, that this story has further to run."
— With assistance by Davison Santana
Before it's here, it's on the Bloomberg Terminal.
LEARN MORE