Turkey Debt Investors Face Rude Awakening After U.S. Spat Heats Up
By
Deutsche Bank data show rise in foreigners' local-debt share

But locals have pared lira exposure amid political risks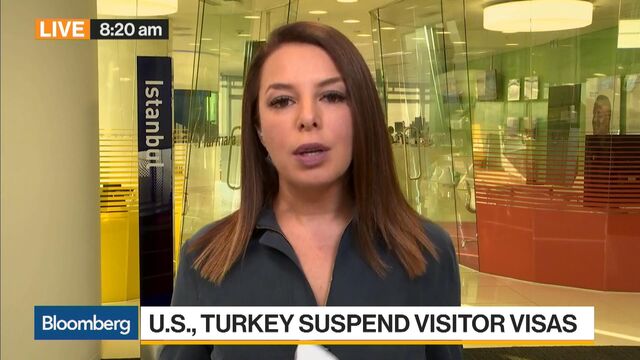 The lira's sharp drop on Monday, spurred by a diplomatic spat with the U.S., underscores the litany of risks facing foreign money managers who piled into the local debt market in recent months.
The share of government debt held by foreigners stands at 23 percent, or $32.5 billion, the highest since August 2015, according to Deutsche Bank AG. That's about a 3 percentage-point increase from December -- a $6.4 billion advance.

The figures highlight how yield-seeking traders have staged a comeback after a failed coup attempt in July 2016 spurred record outflows in the fourth quarter of last year. While the overseas share remains five percentage-points below its May 2013 peak -- before the Taper Tantrum sparked a broad-based exodus from developing-economy assets -- current positioning in Turkish local debt markets "is not light any more," according to Christian Wietoska, a strategist at Deutsche Bank in London.
And it's in stark contrast to Turks, who have pared lira exposure this year, increasing their bank deposits in foreign currencies by $20 billion to a record $168 billion at the end of September.
Foreign Reliance
"Sizeable positioning built up by foreign investors in Turkey this year" may exacerbate the feedback loop facing the lira, where selling begets more selling, Murat Toprak and Dominic Bunning, strategists at HSBC Holdings Plc, wrote in a note Monday.
With domestic investors defensive amid Turkey's ongoing state of emergency and political polarization, the local debt market is more vulnerable to foreign flight on the heels of tighter U.S. monetary policy or a deteriorating political environment.
"I cannot remember a time when the locals have foregone opportunities from a cheap lira and carry for this long," Timothy Ash, a London-based senior emerging-market strategist at BlueBay Asset Management LLP, which oversees about $52 billion, wrote in a Sept. 28 note. "Faced with a strong foreign bid they have always eventually tended to throw the towel in."
Koon Chow, a strategist at Union Bancaire Privee Ubp SA in London, cites one upside from the lira's 5.8 percent fall against the dollar this year.
"The Turkish lira has been one of the worst-performing over the last twelve months so even if there is some regret by investors who bought bonds, at least they are buying into a currency that's cheap," he said. "Which in turn should limit the lira pain. If they sell, there should be other investors who step in to buy."
Before it's here, it's on the Bloomberg Terminal.
LEARN MORE