Game Changer
How to Prove That LGBT Discrimination Is Really Sex Bias
Chai Feldblum is Washington's strongest champion for a particular interpretation of worker protections.
By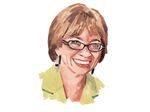 Growing up as an Orthodox Jew, Chai Feldblum dreamed of becoming America's first famed female Talmudic scholar. After her mother was killed in a car accident when Feldblum was 15, she lost faith in the concept of God, but the Jewish idea of tikkun olam—taking action to repair the world—remained.
"What changed when I became secular is I shifted to the vehicle of law," says Feldblum, who went on to lobby on Capitol Hill, attend law school, and teach at Georgetown University before being tapped by President Obama in 2009 to serve on the U.S. Equal Employment Opportunity Commission.
Today, Feldblum is Washington's strongest champion for the idea that antigay and antitrans biases constitute discrimination "because of sex," something Congress banned in the workplace in 1964. When a company punishes a woman for having a wife but doesn't punish a man for having one, or a boss fires a transgender male employee because she hired him thinking he was female, that's sex discrimination, Feldblum says. "Nothing but sex has been taken into account in those two scenarios."
The EEOC used to dismiss such arguments, and federal courts largely followed suit. In 2011, Mia Macy, a transgender woman, brought a claim alleging that the Bureau of Alcohol, Tobacco, Firearms, and Explosives denied her a job because she stopped identifying as male. Feldblum spent hours discussing the case with her fellow commissioners, Republicans and Democrats, who issued a unanimous ruling in 2012 declaring antitransgender bias a form of sex discrimination. Three years later, in a 3-2 vote, the EEOC said that sexual orientation bias constituted sex discrimination, too.
As a lesbian herself (she says that coming out to her father was easier than telling him she no longer believed in God), Feldblum violates "the most core gender stereotype—that women should be attracted to men," she says. She notes that, along with being the first openly LGBT member of the EEOC, she's also the first to go public about having the "hidden disability" of anxiety disorder. "Chai has been singularly important as a convener and a catalyst and a driver of a process that was ripening," says Jennifer Pizer, law and policy director of the LGBT nonprofit Lambda Legal. "She is making an enormous difference."
Since 2012 several judges have adopted the EEOC's view, creating a split among federal appeals courts. On Sept. 26 the U.S. Court of Appeals for the 2nd Circuit in New York heard arguments on whether it should join the Illinois-based 7th Circuit in embracing the EEOC's argument on sexual orientation. President Trump's Department of Justice asked it not to. "It's definitely destined for the Supreme Court," Feldblum says. "From my perspective, I'd rather have them take it sooner rather than later. Why not?"
Before it's here, it's on the Bloomberg Terminal.
LEARN MORE