Spain's Abertis, Colonial Flee Catalonia as Independence Looms
By
Only one Catalan company on Spain's Ibex 35 hasn't fled

Catalonia's economy is Spain's largest, on par with Madrid's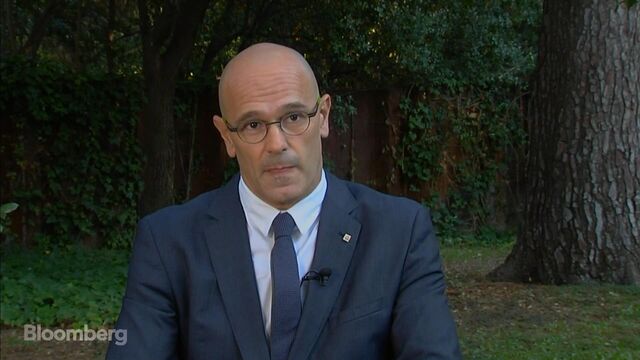 Spanish companies Abertis Infraestructuras SA, Inmobiliaria Colonial Socimi SA and Cellnex Telecom SAU Monday joined the flow of companies fleeing Catalonia as the region heads towards a possible declaration of independence.
The boards of the toll road operator, real-estate company and telecom firm approved shifting their legal base from Barcelona to Madrid, they said in separate regulatory filings. "Due to the legal uncertainty generated by the current political situation in Catalonia, the board unanimously decided to change its legal base to Madrid for as long as necessary," Abertis said.
As the region that contributes a fifth of Spain's output moves closer to declaring secession, companies are rushing to escape the uncertainty stemming from the risks of leaving the European Central Bank's umbrella and of changes in local regulation and taxation. 
Pharmaceutical firm Grifols is the only Catalan firm left in the benchmark IBEX 35 index which had seven companies from the region at the beginning of last week. CaixaBank SA, the region's largest lender, Banco Sabadell SA and Gas Natural SDG SA agreed to move their legal bases out of Catalonia along with a dozen or so smaller firms.
"Companies are leaving due to irrational and radical politics, not because of the possibility of independence," Spanish Economy Minister Luis de Guindos told reporters in Luxembourg today. "This will only lead to the impoverishment of Catalonia."
Tension rose today ahead of Catalan President Carles Puigdemont's speech to lawmakers on Tuesday at 6 p.m. in Barcelona, with his separatist partners calling on him to declare independence without delay. The Spanish government said it is ready to trigger the Constitution's Article 155 and suspend the semi-autonomy of the rebel region.
Before it's here, it's on the Bloomberg Terminal.
LEARN MORE