Thaler, Famed for 'Nudge' Theory, Wins Nobel Economics Prize
By and
Thaler will spend prize money as 'irrationally as possible'

Economics prize ends this year's cycle of Nobel honors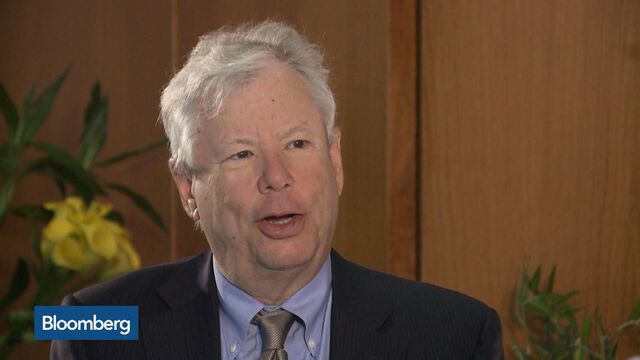 Richard H. Thaler won the Nobel Prize for Economics, a reward for 40 years of work spent studying human bias and temptation when many fellow economists preferred to view people as rational actors.
Thaler, 72 and a professor at the University of Chicago, is one of the founders of behavioral economics and finance, a field which once drew derision from some academics before entering the mainstream over the past decade. He was made a Nobel laureate for shedding light on how human weaknesses such as a lack of rationality and self-control can ultimately affect markets.
The co-author of the 2008 best-seller "Nudge" has "built a bridge between the economic and psychological analyses of individual decision-making," the Royal Swedish Academy of Sciences said in a statement.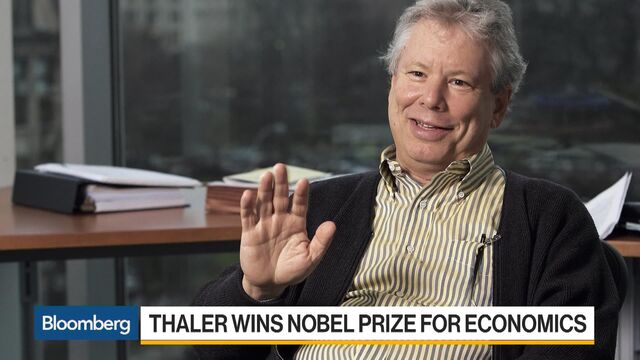 Thaler's "Nudge" theory, crafted with former White House adviser Cass Sunstein, suggests small incentives can prod people into making certain decisions. The work has informed politicians looking for ways to influence voters and shape societies at a time when budget deficits limited their scope to spend and the 2008 financial crisis caught many economists off guard.
Former U.S. President Barack Obama and ex-U.K. Prime Minister David Cameron both appointed teams to study if behavioral economics could be used to save their governments money and drive economies. Behavioral policy making is now spreading through the world, from Singapore to Australia.
"From studying human beings rather than using abstract models you get better policies, better answers for paying taxes, donating organs, getting people back to work," said David Halpern, chief executive officer of the London-based Behavioural Insights Team, which was partly inspired by Thaler's ideas and has worked with the academic. "We've still got a long way to go. There are so many policies which involve human behavior."
Read more: Five papers that will help you understand Thaler's work
On a call with journalists after the announcement, Thaler said the most important impact of his research is "the recognition that economic agents are human, and that economic models have to incorporate that."
Thaler developed the theory of "mental accounting," explaining how people make financial decisions by creating separate accounts in their minds, focusing on the narrow impact rather than the overall effect.
His research on "fairness," which showed how consumer concerns may stop firms from raising prices in periods of high demand, but not in times of rising costs, has also been influential, according to the Swedish academy. He revealed how people succumb to short-term temptations, which is why many people fail to plan and save for old age.
Read More: Michael Lewis reviews Thaler's work
Thaler's body of work includes insights on the ways in which limited rationality, social preferences and a lack of self control affect decisions that shape market outcomes. He has proposed having companies committing workers to savings programs rather than waiting for them to sign up to them, studied how American football teams make poor choices when drafting players and explained how quiz show contestants take risks.
His other works include "Quasi-Rational Economics," "The Winner's Curse: Paradoxes and Anomalies of Economic Life" and "Advances in Behavioral Finance."
He's the director of the Center for Decision Research, and is the co-director, with now fellow Nobel laureate Robert Shiller, of the Behavioral Economics Project at the National Bureau of Economic Research.
Besides his distinguished academic career, Thaler has made it to the silver screen, if only fleetingly. He made a cameo appearance in the 2015 film "The Big Short," sitting alongside the actress Selena Gomez as they played blackjack. Asked about the hot-hand fallacy in relation to President Donald J. Trump, Thaler said on the call that he was disappointed his film career wasn't part of the "official" announcement, adding that Trump "would do well to watch that movie."
Thaler has been a critic of Trump, writing on Twitter just last month that his ability "to produce negative surprises is quite amazing" and that "I simply cannot lower the bar enough for him to get over it."
Born in New Jersey, Thaler graduated with a bachelor's degree from the Case Western Reserve University in 1967. He received a master's degree from the University of Rochester in 1970 and a doctorate in 1974, also from Rochester. Thaler joined the University of Chicago's Booth School of Business in 1995.
Read more: The potential and limitations of Thaler's prescriptions
Previous Winners
Last year's economics prize went to Harvard University's Oliver Hart and Bengt Holmstrom of the Massachusetts Institute of Technology for their work on contract theory and its role in shaping everything from executive pay to public sector privatizations. Previous laureates have included Milton Friedman, James Tobin, Paul Krugman and Friedrich August von Hayek.
Thaler is not the first behavioral economist to scoop the subject's top prize. Daniel Kahneman and Vernon L. Smith also shared the 2002 prize in economics for their work in psychological and experimental economics and Robert Shiller was rewarded for his research in 2013.
Annual prizes for achievements in physics, chemistry, medicine, peace and literature were established in the will of Alfred Nobel, the Swedish inventor of dynamite, who died in 1896. The prize in economic sciences was added by Sweden's central bank in 1968. The total amount for each of the 2017 prizes is 9 million kronor ($1.1 million), up from 8 million kronor last year. The economics award brings to an end this year's Nobel prize cycle.
Thaler said on the call that he will try to spend the money "as irrationally as possible."
"Any time I spend any money that's really fun, I'm going to say, 'That came from the Nobel prize,"' Thaler said at a Chicago Booth press conference. He'll also be collecting his award in person.
"Unlike Bob Dylan, I do plan to go to Stockholm," Thaler said. Dylan, a songwriter, was silent for weeks after he was announced as the winner for the literature Nobel in 2016, though he did ultimately accept the prize.
— With assistance by Niklas Magnusson, Veronica Ek, and Hanna Hoikkala
Before it's here, it's on the Bloomberg Terminal.
LEARN MORE