Political Risk Seeps Into Yen Trade as Abe Battles Upstart
By and
Tokyo governor has captured attention with new political party

If Abe loses ground, focus may shift to stimulus & weaker yen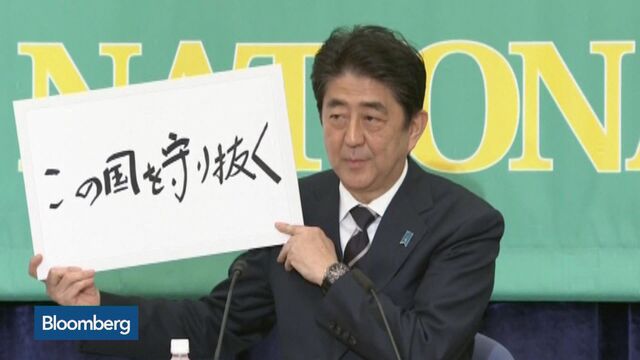 It's been five years since politics captured much attention from the foreign-exchange world in Japan, but market players are now gaming out potential scenarios for the yen from the Oct. 22 general election. 
The consensus view is still for Prime Minister Shinzo Abe's coalition to sail to a comfortable third-straight majority in the lower house, ensuring years more to come for Abenomics and the weak yen it's produced. Even so, the situation is more fluid than anticipated just months ago, with the sudden rise of new political parties that -- with a plurality of voters undecided -- could yet deal Abe a setback that calls into question his tenure as head of his party.

The new Party of Hope, led by Tokyo Governor Yuriko Koike, hasn't laid out details on where it stands on monetary policy -- saying it favors keeping unprecedented easing for now, though it doesn't want to rely too much on monetary easing and wants to work with the Bank of Japan on a smooth exit strategy. Many in the currency-strategy world assume that if her group gains major ground, it would strengthen the yen and hit Japanese equities.
"There's basically a very strong notion among non-Japanese that Abenomics and the Abe administration weakened the yen, so if that's perceived to be over, it will be shocking and put pressure for the yen to rise and stocks to fall," said Tohru Sasaki, head of Japan markets research at JPMorgan Chase & Co., and a former BOJ currency dealer.
Here's a few of the potential scenarios:
If Abe's Liberal Democratic Party and coalition partner Komeito fail to get a majority, the yen could climb to 105 to 106, Sasaki says. The Nikkei 225 Stock Average might decline below 19,000, from the 20,690.71 it closed at on Friday. But he doesn't think that would start a new trend of yen strength and a drop in equities
Under the same outcome, Tatsuhiro Iwashige, chief foreign-exchange strategist in Tokyo at GCI Asset, an investment-advisory group, sees the yen soaring past 100. His rationale: concerns about who the next administration would pick to lead the Bank of Japan, given that Haruhiko Kuroda, who has overseen unprecedented "quantitative and qualitative easing," comes to the end of his term in April
If Abe's coalition keeps its two-thirds majority, the yen could drop -- though only modestly -- toward around 114, because this probability is already seen as high, according to Bipan Rai, Toronto-based senior foreign-exchange and macro strategist at Canadian Imperial Bank of Commerce.
In the case of Abe losing significant ground, there could be a "second wave" effect after initial yen strengthening and equity losses, says Minori Uchida, head of global market research at Bank of Tokyo-Mitsubishi UFJ Ltd. in Tokyo. His thinking: Abe's focus will shift to stimulus, and a more competitive currency. So the yen goes back down and stocks back up
A shock win for Koike's group, which would need to assemble a coalition with other parties as it's not expected to field enough candidates to form a majority, would also eventually prove bad for the yen, Uchida says. A key Koike proposal is to ditch a planned 2019 sales-tax hike. That would hurt Japan's sovereign rating and thus the currency, Uchida says

Some traders are taking out insurance on the election results -- read about that here.
In another sign of the election influencing trading, foreign investors are positioning for higher yields on longer-dated interest-rate swaps, though domestic market players have yet to make notable bets -- read more about that here.
Few see any lasting trends coming out of the election, with the yen continuing to trade in the relatively contained range it's been in so far this year -- mainly 108 to 115, with a high of 107.32 and a low of 118.60. The outlook for U.S. monetary policy may be more important for Japan's currency, given that the BOJ is set to keep its near-zero target for 10-year government bond yields for some time to come.
"What's currently leading dollar-yen direction is U.S. yields," said Jun Kato, a senior fund manager at Shinkin Asset Management Co. in Tokyo. "It's quite difficult to reverse that suddenly with yen buying on risk aversion based on Japanese politics," he said. "There may be some impact but it's not a long-term trend setting factor."
Yet political shifts have had effects in the past. After the administration before Abe's swept to power in 2009, indications that it planned no steps to counter a strong currency only fed the yen's bull run. By 2011, it reached a postwar high of 75.35 per dollar.
— With assistance by Stephen Spratt
Before it's here, it's on the Bloomberg Terminal.
LEARN MORE