Macron's Vision for EU Hits Resistance in Euro-Member Latvia
By and
Baltic state's premier says it needs its own tools to catch up

Sanctioning members over rule of law would please EU 'enemies'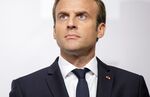 French President Emmanuel Macron's push for a streamlined European Union hit another obstacle, as a small ex-communist euro country, Latvia, objected to his ideas of measures from harmonizing the corporate tax rate to punishing members for democratic backsliding.
Latvian Prime Minister Maris Kucinskis joined the ranks of leaders who have reacted coolly to the French president's proposals to overhaul the world's largest trading bloc. Rather than start new projects, the premier said the EU should stick to its existing agenda, which focuses on shoring up external borders, tightening immigration standards and tackling economic challenges -- such as youth unemployment -- that are rankling the region's almost half billion citizens.

"Let's start with the words that most of the member states expressed on the matter: it's good that there are some initiatives, that there are offers that we can discuss," Kucinskis, 55, said in an interview in Riga, the capital of the Baltic country of 2 million. "But at the same time we have what's been decided in Bratislava, what's been decided in Malta, which shows us how we're to go forward."
His statements underscore the complicated and often diverging stances among the EU's 27 members that will remain after Britain exits the bloc as they struggle to decide on a common future without one of their largest economies. While Macron's vision, laid out in a Sept. 26 speech, has some support for ideas that include a common euro-area budget and a finance minister to oversee it all, some of his counterparts were less than enthusiastic when they met at the end of the month at a summit in Tallinn, Estonia. He told the summit Latvia was ready to back initiatives that seek to strengthen the bloc.
Tax Harmonization
One such issue is tax harmonization. Macron called for harmonized corporate taxes by 2020, with a penalty of reduced development aid for those who don't cooperate. While some countries see a unified tax policy as the best way to prevent a race to the bottom in which members lure investment by offering lower rates, others, such as Ireland, are staunchly opposed.
For Latvia, which is trying to raise living standards closer to the EU average, from about two-thirds, that would also be a non-starter, the premier reiterated.
"That's not really possible, taking into account that our people's support for the EU is connected with hopes for an increase in living standards, economic growth," Kucinskis said. "In order to attract investment, we need to have our own tools. They can't be the same ones that old Europe uses."
Rule of Law
Kucinskis also questioned another idea raised by Macron and other EU leaders: tying development aid to democratic standards. Poland is at the center of the debate, with the European Commission having launched its first-ever probe into whether a member is undermining the rule of law. Commission Vice President Frans Timmermans has warned Warsaw its voting rights may be suspended. Hungary has also drawn similar criticism.
"To me the most important thing is that all these relationships are put in order through talks and with dialogue between the European Commission and a member state," Kucinskis said. "That's why I don't think that these instances, which undoubtedly can be discussed for the mentioned Poland and Hungary, that the solution is sanctions."
Kucinskis didn't specify whether he would go as far as Hungary, where Prime Minister Viktor Orban has vowed to actively bloc punishment against Poland.
"I don't think that all the options have been exhausted," he said, adding that penalizing members would harm the unity that the bloc is trying to bolster. "The EU's enemies -- who are not minor -- they would be happy."
Before it's here, it's on the Bloomberg Terminal.
LEARN MORE