Abe Challenger's Party Loses Steam Two Weeks Before Japanese Election
By
Yomiuri poll shows Koike support falling ahead of Oct. 22 vote

Abe targeting a simple majority for his ruling coalition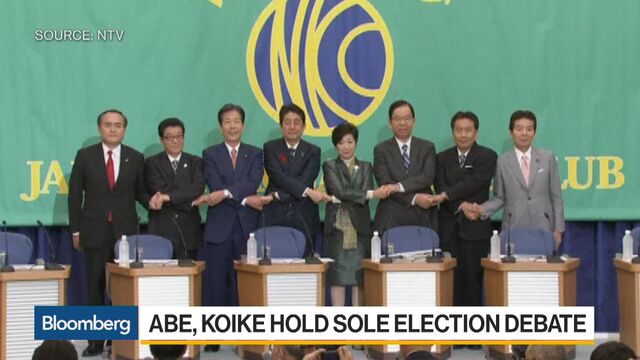 Support for Tokyo Governor Yuriko Koike's nascent Party of Hope fell in a weekend poll, indicating that her bid to upset Prime Minister Shinzo Abe's ruling party in a general election less than two weeks away may be losing steam.
Thirteen percent of respondents to a Yomiuri survey said they'd vote for her party in the proportional representation section of the Oct. 22 lower house election, down from 19 percent about a week ago. Support for Abe's Liberal Democratic Party fell slightly to 32 percent in the telephone poll of 1,099 eligible voters. Twenty-seven percent said they were still undecided.
The poll is good news for Abe, who is seeking a fresh mandate ahead of an LDP leadership vote next year that could put him in line to become Japan's longest-serving prime minister. Koike had launched Hope last month in a surprise move just hours before Abe said he'd call an election, rallying a weakened opposition in a race that had been widely seen as relatively comfortable for the premier.
The Yomiuri poll was conducted over a weekend that saw a series of debates between the leaders of the main political parties. Abe said the escalating North Korea threat showed that Japan needed his leadership, and pointed to the nation's growth record. He also said that his goal in the election is for the ruling coalition to win a majority of parliamentary seats. It currently holds about 68 percent in the 475-member body.
Will Koike Run?
Koike, meanwhile, pushed her "Yurinomics" economic platform, saying the prime minster hadn't delivered on promised reforms. She also repeatedly denied she would quit her governor's post to run in the election and give her a chance of becoming prime minister. She has to decide by Tuesday, when the election campaign formally opens.
In the Yomiuri poll, 71 percent of respondents said Koike should stay in her current role, with just 7 percent saying she should stand in the general election. She hasn't said who she would support as prime minister.
Only a few issues clearly separate Koike's Hope party and Abe's LDP. She wants the nation to ditch atomic power by 2030, while the prime minister has pledged to raise the nuclear share of the nation' energy mix. Citing falling real wages, Hope has also promised to freeze Japan's sales tax rate at 8 percent, while the ruling party has vowed to raise the levy to 10 percent in 2019 to pay for greater spending for families in areas such as education.
Read more about the parties' pledges
On other policies, what Koike calls her "reformist conservative" party sounds much like the LDP, from which she resigned just months ago. She backs Abe's handling of North Korea, wants to discuss changes to Japan's pacifist constitution and says party members must back laws that Abe passed to expand the role of the military.
More than half of respondents to the Yomiuri poll said the nation's most appropriate government would center around the LDP with support from opposition parties.
Only 7 percent said they would vote for the Constitutional Democratic Party of Japan, a group formed last week by left-leaning members of the former main opposition Democratic Party, which saw many of its lawmakers joined Koike's new group. The CDP has allied with the Communist and Socialist parties for the election.
Before it's here, it's on the Bloomberg Terminal.
LEARN MORE