Five Things You Need to Know to Start Your Day
Get caught up on what's moving markets in Asia.
By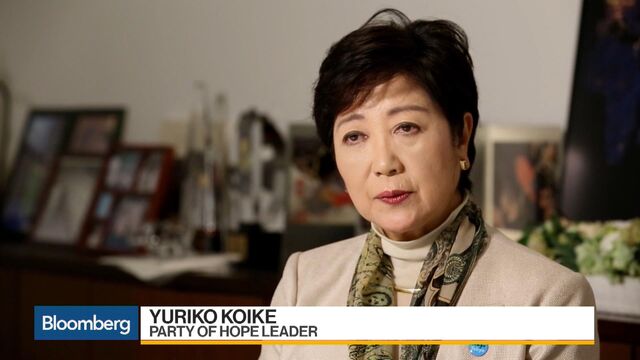 Want to receive this post in your inbox every morning? Sign up here.
Tokyo governor questions White House stability, tensions with Turkey escalate, and a disappointing Chinese holiday. Here are some of the things people in markets are talking about.
Abe Challenger Questions White House Stability
Tokyo Governor Yuriko Koike, leader of Japan's nascent opposition Party of Hope, had some harsh words on Monday for U.S. President Donald Trump. Koike said she's unsure whether the president's administration is stable due to so many personnel changes this year. This is in contrast to her opponent, Japanese Prime Minister Shinzo Abe, who has tried to bolster the U.S.-Japanese alliance. The two will face off in an election this month, and here's a look at how they stand on some of the important issues. Over the weekend, Japan wasn't the only place Trump was hearing criticisms from, with Senate Foreign Relations Chairman Bob Corker calling the White House an "adult day care center," and expressing concern that Trump may set the U.S. on the path to World War III. 
Light Trading in Markets
U.S. stocks saw lower volumes than usual due to the Columbus Day holiday, though they continued to trade near recent all-time highs. The Treasury markets were closed, and the dollar was little changed as traders await more information on tax reform. Meanwhile, the Stoxx Euro 600 Index got a lift from data showing German industry saw its best month in six years. Hang Seng and Nikkei 225 equity futures are trading slightly lower.  
Turkey, On the Other Hand...
In Turkey, the lira, stocks and bonds all tumbled amid a deepening standoff between President Recep Tayyip Erdogan's government and the U.S. The selloff underlined Turkey's vulnerability as the prospect of U.S. interest-rate increases saps demand for some emerging-market assets, rising oil prices boost the country's import costs and the government gets increasingly sucked into the conflict in neighboring Syria.
Chinese Holiday Wasn't Very Golden
Unfortunately, the Chinese holiday didn't live up to its name. While investors hoped "Super Golden Week" would lead to bumper earnings, they're now growing more skeptical, as new home sales in Beijing dropped to 116 units during the National Day holiday, the lowest since 2009, and new home sales in Shanghai plunged 78 percent to 178 units. Sentiment was also hurt by weaker growth in retail sales and restaurant receipts. The MSCI China Index, which closed at a decade-high on Friday, fell as investors moved into stocks that had lagged behind this year, such as consumer staples.
Coming Up
We'll get a look at a number data points this week, including a possible glimpse at Chinese money supply, loans and foreign direct investment as soon as today. In Japan, BOJ Governor Haruhiko Kuroda is set to speak, while the country will report current account and trade balances.
What we've been reading: 
Before it's here, it's on the Bloomberg Terminal.
LEARN MORE