Five Things You Need to Know to Start Your Day
Get caught up on what's moving markets.
By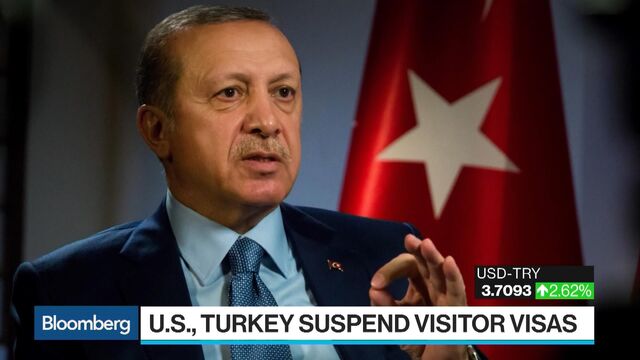 Want to receive this post in your inbox every morning? Sign up here
Turkey and the U.S. in diplomatic spat, Catalan leaders want talks, and Gulf of Mexico oil production is set to resume. Here are some of the things people in markets are talking about today.
Worsening relations
Tensions between the United States and Turkey increased yesterday when both sides suspended visa services for citizens looking to visit either country. The U.S. moved first after an employee at the American consulate in Istanbul was arrested last week, with Turkey responding within hours. The Turkish lira received the brunt of the market reaction, plunging in Asia trading. While the drop has not become a wider emerging-market currency event, it serves as a reminder to investors that Federal Reserve tightening is not the only risk to these markets.
Can we talk?
Crunch time is approaching in Catalonia with the regional parliament planning to meet this week. If Catalan leader Carles Puigdemont follows through on a threat to declare independence, Spanish Prime Minister Mariano Rajoy could suspend the devolved administration and send in security forces. A senior member of the region's administration has called for talks with Madrid following mass demonstrations over the weekend in favor of Spanish unity. This olive branch from Barcelona saw Spanish stocks become the best performers in Europe this morning. 
Production resumption
Oil companies are working to restore operations in the Gulf of Mexico after Hurricane Nate passed through the region. While the effects of the weakening storm will likely pass quickly, the challenges facing crude producers globally remain severe, with OPEC Secretary-General Mohammad Barkindo saying "extraordinary measures" may have to be taken in 2018 to keep the market stable. A barrel of West Texas Intermediate for November delivery was trading at $49.32 by 5:40 a.m. Eastern Time. 
Markets rise
Overnight, the MSCI Asia Pacific Index was unchanged, while the Shanghai Composite Index gained 0.7 percent in its first session after a week-long holiday. In Europe, the Stoxx 600 Index was 0.2 percent higher at 5:40 a.m., with Spanish stocks leading the advance, while U.K. markets slipped as the pound recovered some of last week's losses. S&P 500 futures added 0.2 percent and gold was higher. U.S. bond markets are closed for a holiday.
May may reshuffle
U.K. Prime Minister Theresa May could be planning to sideline Foreign Secretary Boris Johnson as she seeks to reassert her authority amid government infighting. May is due to address parliament today to give an update on progress with Brexit negotiations, which resume this week. The pound was trading higher at $1.3148 after last week's politics-driven selloff. 
What we've been reading
This is what's caught our eye over the weekend.
Quotes from this Article
Before it's here, it's on the Bloomberg Terminal.
LEARN MORE