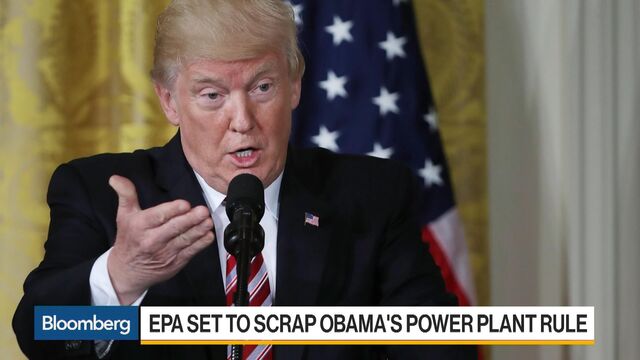 The Trump administration will propose the repeal Tuesday of President Barack Obama's Clean Power Plan, which mandated cuts in carbon-dioxide emissions from power plants, said Scott Pruitt, the head of the Environmental Protection Agency.
"Tomorrow in Washington, D.C., I'll be signing a proposed rule to withdraw the so-called Clean Power Plan of the past administration," Pruitt said Monday in remarks in Hazard, Kentucky, televised by Fox News.
President Donald Trump promised to rip up the initiative, which mandated that states change their overall power mix, displacing coal-fired electricity with that from wind, solar and natural gas. The EPA will argue the prior administration violated the Clean Air Act by requiring those broad changes to the electricity sector, according to a draft obtained by Bloomberg.
Read More: Trump Seen Replacing Obama Power Plant Overhaul With Tuneup
Before it's here, it's on the Bloomberg Terminal.
LEARN MORE