Billionaire Election Favorite Is Charged in Czech Fraud Case
By and
Police probe alleged misuse of funds; Babis denies accusations

Babis's party has wide lead in polls before next week's vote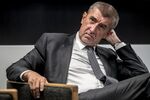 Czech police filed criminal charges against billionaire Andrej Babis over alleged fraud related to European Union subsidies, accusations that the leader of the poll-leading ANO party rejects as an effort to prevent him from taking power after next week's general election.
In addition to Babis, police also charged ANO Deputy Chairman Jaroslav Faltynek in the same case, state news service CTK reported on Monday, citing the party. Babis called the move "politically motivated" and in an interview on public television confirmed that the charges were filed. Faltynek, one of his closest allies, also denied any wrongdoing. Last month, parliament voted to strip the two officials of the immunity that protects lawmakers from prosecution.
The legal showdown marks the biggest test to date of Babis's support among potential voters as all opinion polls show ANO leading by a wide margin before Oct. 20-21 elections. For now, any further fallout may be limited, since it's highly unlikely that a court could issue a verdict before the vote. That means police will probably have to ask parliament again to allow for charges against Babis if he wins a seat in the legislature for another four years.
The probe's focus is on alleged misuse of EU aid funds at a recreation center belonging to Babis's business empire, which also includes chemical, food and media businesses. The second-richest Czech and former finance minister has repeatedly said the case was fabricated by his opponents.
Babis, whose fortune is estimated at $4 billion, has built his popularity by attacking traditional parties as corrupt and incompetent managers of public finances. While ANO's presence in the ruling coalition has firmly embedded it in the political mainstream, the rhetoric of its leader echoes the populist appeals of forces on the rise across Europe.
The self-made billionaire has rejected all accusations and said he did nothing illegal in the case of a 50 million-koruna ($2.3 million) EU subsidy transferred to his Stork Nest recreation complex.
The center belonged to Babis's business empire in the past, but he told a parliamentary hearing last year that it was owned by his children and brother-in-law when the application for EU funds was filed. This year, he transferred all of his assets to a trust fund, supervised by his wife, after his coalition partners teamed up with opposition to tighten the conflict-of-interest law.
Most of ANO rivals have said they won't cooperate with Babis after elections if he is charged with a crime. But President Milos Zeman has called for the presumption of innocence to be upheld until a court rules in the case, saying that criminal charges won't stop him from asking the billionaire to form the cabinet if his party wins the elections.
While at the helm of the Finance Ministry, Babis used to highlight his achievements in cutting state debt and helping to bring down government borrowing costs. The yield on 10-year state securities was at 1.41 percent on Tuesday, compared with less than 0.4 percent at the start of the year, as the central bank started to tighten monetary policy in August. The koruna weakened 0.1 percent to 25.91 per euro at 11:32 a.m. in Prague.
Before it's here, it's on the Bloomberg Terminal.
LEARN MORE