China Foreign Reserves Increase an Eighth Month on Stronger Yuan
Bloomberg News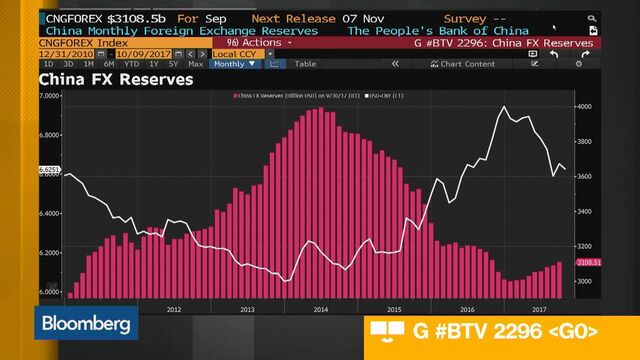 China's foreign-exchange reserves posted an eighth-straight monthly rise in September, as the pressure of cash outflows eased further, amid capital controls and a stronger yuan.
Key Points
The world's largest foreign currency stockpile climbed $17 billion to $3.109 trillion, the People's Bank of China said Monday
That compares with a $3.10 trillion estimate in a Bloomberg survey
The run of increases in the reserves is the longest since mid-2014, when the holdings peaked at $4 trillion before declining through early this year

Big Picture
China's reserve position has stabilized after several years of declines, helped by resilient growth at home, capital curbs keeping overseas flows controlled, and more recently by appreciation of the yuan. Those factors may insulate China to some degree from the pressure implicit in rate increases by the U.S. Federal Reserve.
Economist Takeaways
"Reserves posted another moderate gain in September, reflecting continued efforts by the Chinese authorities to clamp down on corporate outbound M&A capital outflows," said Rajiv Biswas, Asia-Pacific chief economist at IHS Markit in Singapore. Stabilizing reserves is likely to remain a priority next year as rising U.S. interest rates could weaken the yuan, he said.
"Reserves rose on the strong yuan in early September, and it's likely to stay at a stable level in near future," said Yao Shaohua, an economist at ABCI Securities Co. in Hong Kong. "Good economic fundamentals, a stable currency and reserves make it possible for the People's Bank of China to be less worried about the moves from the Fed and stick to its own policy stance."
Sentiment in the currency market is the main driver of the rise in the reserves, said Frederik Kunze, chief China economist at German lender NordLB in Hanover. "Market participants seem to be quite confident that a renewed and pronounced weakness of the Chinese currency is unlikely."
Bloomberg Intelligence
"Taken together with positive readings from the official purchasing managers' index, and rising markets following the central bank's reserve requirement cut, that adds to the sense of stability ahead of next week's Communist Party Congress," Bloomberg Intelligence economists Fielding Chen and Tom Orlik wrote in a report. BI calculations showed valuation effects likely reduced reserves by $8 billion as both the euro and yen fell against the dollar.
The Details

Solid economic growth, a stronger yuan, orderly cross-border capital flows and balanced international payments all contributed to the stable increase of reserves, the State Administration of Foreign Exchange said in a statement after the release
Reserves denominated in the International Monetary Fund reserve currency known as Special Drawing Rights were at SDR 2.2 trillion, little changed from 2.19 trillion at end of August
The gold stockpile stood at $76 billion, versus $77.7 billion at end of August
— With assistance by Yinan Zhao, Xiaoqing Pi, Miao Han, Tian Chen, Robin Ganguly, and Kevin Hamlin
Before it's here, it's on the Bloomberg Terminal.
LEARN MORE