Catalans Offer Spanish Socialists Pact to Oust Rajoy
By , , and
Socialists refusing to take deal for now as crisis drags on

Parliament in Barcelona to discuss independence vote Tuesday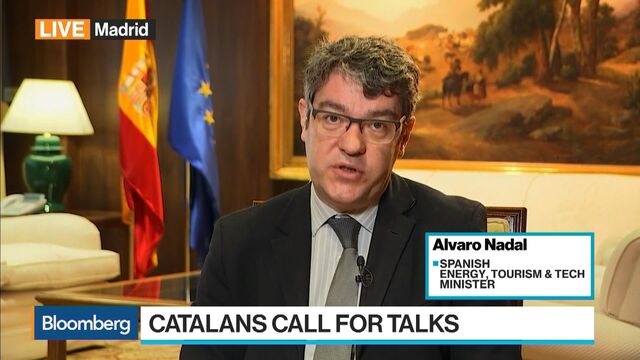 Catalan secessionists have opened a second-front in their campaign against the government in Madrid, urging the opposition Socialists to forge a coalition to oust Spanish Prime Minister Mariano Rajoy, according to two people with knowledge of the outreach.
The Socialists have so far refused to sign up to the plan, the people said, even though the Catalan groups pushing it have already persuaded the populist Podemos party to back it. The Catalans persuaded Podemos to accept a Socialist-only government, one of the people said, asking not to be identified discussing private conversations.
With the Socialists on board, the alliance would have 172 seats in the 350-strong chamber and would look to add the Basque Nationalists to form a majority. Rajoy heads a minority administration with 134 deputies and can be toppled with a no-confidence motion.

Carmen Calvo, a member of the Socialists' executive board, said that her party is focused on ensuring that the Spanish Constitution is observed. Spokespeople for Podemos and Puigdemont's Catalan party said they weren't aware of the talks.
The Catalans are trying to bring officials in Madrid to the negotiating table after holding an illegal referendum on independence Oct. 1. While Rajoy has refused to engage in talks with the Catalan leaders until they accept the authority of the Spanish courts, the Socialist leader Pedro Sanchez has called for dialogue to calm a situation that saw police officers beating would-be voters at makeshift polling stations.
The crisis in Catalonia is reaching its climax with regional President Carles Puigdemont due to address the legislature in Barcelona on Tuesday, and hinting that he might declare independence. Rajoy has vowed to keep Spain together regardless of what the Catalans do and was backed by more than 350,000 demonstrators who took to the streets of Barcelona on Sunday.
Sanchez, the Socialist leader, may be wary of accepting the support of either the Catalans or Podemos -- attempts to forge a similar alliance last year backfired on him. He might also calculate that it makes little political sense to take office in the middle of the biggest political crisis in decades, when he might let his rival take the flak and wait for a more opportune moment down the line.
Another person with knowledge of the government's plans said it was prepared for such a move and Rajoy would respond by triggering a general election, betting that his firm stance on Catalonia would boost his support in the rest of the country.
Under Spanish law, a government can't be ousted by a straight no-confidence vote. Instead, opposition parties need to agree on an alternative candidate to lead a new administration.

— With assistance by Charles Penty
Before it's here, it's on the Bloomberg Terminal.
LEARN MORE