Balance of Power: Foreign Policy Mutiny Closes In on Trump
By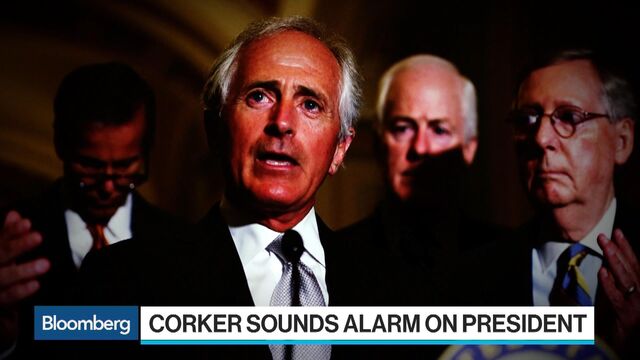 Donald Trump is in danger of a foreign policy mutiny by fellow Republicans.
Senate Foreign Relations Chairman Bob Corker — who for months has done little to disguise his concerns about whether Trump is up to the job — went public yesterday with a degree of withering condemnation unseen until now within Trump's party.
Corker, who has close ties to embattled Secretary of State Rex Tillerson, called the White House an "adult day care center" and told the New York Times that the president's threats could set the U.S. "on the path to World War III." He said nearly every Senate Republican shared his concerns.
The comments come after Trump said talks with North Korea were futile and "only one thing will work" to halt that nation's nuclear ambitions. And they further signify rebellion within Republican ranks ahead of a planned announcement this week on whether to decertify the 2015 Iran nuclear accord.
Trump, who sharply criticized Corker's support of the Iran deal in tweets yesterday, is expected to ask Congress to toughen its oversight of Iran's compliance — a move that could unravel the agreement and further alienate him from those who should be his allies, at home and abroad.

Sign up to receive the Balance of Power newsletter in your inbox, and follow Bloomberg Politics on Twitter and Facebook for more.
Global Headlines
U.S.-Turkey spat | Hours after the U.S. halted non-immigrant visa services in Turkey, President Recep Tayyip Erdogan's government responded in kind. The spat follows the arrest of a Turkish employee of the American consulate in Istanbul for alleged involvement in a 2016 coup attempt. It's part of a deterioration in ties which has seen NATO member Turkey — alarmed over U.S. policy in Syria — increasing its coordination with Russia and Iran. The lira plunged. 
Bannon's bullseye | Trump's former chief strategist Steve Bannon plans to back primary challenges to almost every Republican senator in next year's midterm elections, a bid to depose Majority Leader Mitch McConnell, Jennifer Jacobs and Bill Allison report. Only Texas's Ted Cruz is exempt from the effort, which follows a win last month by Bannon's preferred candidate (over a McConnell-backed incumbent) in Alabama's Senate primary runoff.
Border wall demand | Even as he publicly warred with a Senate chairman, Trump demanded that Congress fully fund his border wall and make dramatic changes to immigration policy in exchange for letting young people brought illegally to the U.S. stay. The administration's proposal, sent to lawmakers last night, was swiftly rejected by top Democrats and threatens to scuttle prospects for a bipartisan deal.
Catalonia on the brink | The fallout from Catalonia's crisis over demands for secession may inflict economic damage on Spain and the rest of Europe unless it's settled peacefully, officials from the region say, at the start of a crunch week. After hundreds of thousands of people demonstrated over the weekend for a united Spain, the regional parliament is due to meet tomorrow, in defiance of the Spanish courts, as separatist leaders debate how fast to move to a declaration of independence after the illegal referendum on Oct. 1. 
Europe's diverging views | Euro-area finance ministers start saying farewell today to Germany's Wolfgang Schaeuble and Jeroen Dijsselbloem of the Netherlands. Viktoria Dendrinou looks at how the group's dynamics may change in one of the most critical phases in its 19-year history. In an example of diverging stances, Latvia's Prime Minister told Bloomberg he objects to French President Emmanuel Macron's ideas of measures for harmonizing the corporate tax rate. 
And finally... A soccer star and a former warlord are among 20 candidates in tomorrow's presidential election in Liberia, the West African nation that was founded for freed American slaves almost 200 years ago and later became a byword for a brutal civil war. Those seeking to succeed Africa's first elected woman president, Ellen Johnson Sirleaf, include former AC Milan soccer sensation George Weah and Prince Johnson, an ex-guerrilla leader whose aides tortured and killed a sitting president in 1990. Yet the vote could see Liberia transfer power from one elected president to another for the first time in more than half a century.

Before it's here, it's on the Bloomberg Terminal.
LEARN MORE