Merkel Moves Ahead on Untested Governing Coalition for Germany
By and
Risk growing that parties will need until January: Schmieding

Anti-immigration AfD won 12.6 percent in last month's election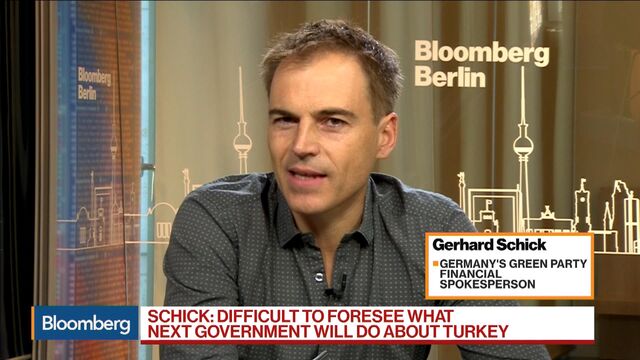 German Chancellor Angela Merkel said she'll start exploring options for a new government next week, potentially setting the stage for months of talks with the pro-market Free Democrats and the Green party on teaming up with her in an unprecedented coalition.
If full-fledged negotiations follow the initial soundings, Europe's biggest economy faces complex bargaining over a policy agenda for Merkel's fourth term. Apart from keeping her Christian Democratic-led party bloc in line, the chancellor will have to bridge differences among the prospective partners on topics from euro-area policy and energy to migration.
Judging by recent precedent, Germany will be lucky to have its next Merkel-led government by Christmas: After the last election in 2013, the chancellor needed almost three months to seal a coalition pact with the Social Democrats. Talks among individual parties will start on Oct. 18, followed by a first full meeting on Oct. 20, Merkel told reporters on Monday.
"I think this will give us momentum pretty quickly," Merkel said. "It's clear that difficult negotiations lie ahead," she told a youth convention of her Christian Democratic Union on Sunday.
The extent of the task quickly became clear as Green leaders questioned the goal of limiting net migration to 200,000 people a year, a compromise number agreed by the CDU and its Christian Social Union sister party in Bavaria on Sunday night.
Holger Schmieding, chief economist at Berenberg, said he remains optimistic Merkel can form a government with the FDP and Greens. Still, "the risk has risen that this may not be done and dusted by Christmas yet but take well into January instead," he said in a note.


The smaller parties have prodded Merkel for days to settle the migration dispute within her bloc and start talks. Before they begin, a regional election in Lower Saxony on Sunday will offer all parties the first gauge of support since the national vote on Sept. 24.
"It's important for Europe's biggest economic power to be able to make policy," Nicola Beer, the FDP's general secretary, told reporters Monday.
The deal on refugees was a partial concession by Merkel to her CSU allies, who stepped up demands for a refugee cap after the nationalist Alternative for Germany party, or AfD, became the first far-right party since immediately after World War II to win seats in parliament. The AfD campaigned against Merkel and her open-borders stance after more more than 1 million refugees arrived in Germany in 2015 and 2016 during Europe's refugee crisis.

Merkel, Europe's longest-serving leader, took one of the biggest risks of her career in 2015 when she declined to close German borders to a record influx of asylum seekers, including hundreds of thousands fleeing Syria's war. Her shift on refugees is the first policy fallout from Germany's election, which sent support for her bloc to the lowest level since 1949.
— With assistance by Birgit Jennen
Before it's here, it's on the Bloomberg Terminal.
LEARN MORE