China Congress Opens Door for Other Asia Dollar Bond Sellers
By , , and
Investment-grade Asia dollar bond spreads fall to decade low

Returns on the bonds likely muted in fourth quarter: JPMorgan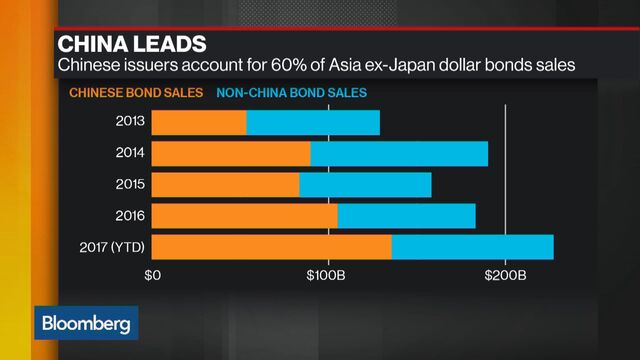 China's Communist Party congress this month is expected to slow dollar bond issuance from the nation's borrowers in the fourth quarter, which may be good news for issuers elsewhere in Asia as volumes are already at unprecedented levels.
"China supply is expected to be slightly slower in the coming weeks," with the up-coming Party Congress and the limited issuance quota from the Chinese regulator, said Chao Li, head of Asia bond syndicate at Standard Chartered Plc "It could represent a good issuance window for non-Chinese issuers and some comparatively weaker names to access the market."

China's 19th national communist party congress, which kicks off Oct. 18, may already be curtailing sales from the nation's borrowers, and Indonesia's Geo Energy Resources Ltd. cited fewer issues in the market when it debuted a junk note at the end of September. Spreads on Asian investment-grade dollar bonds over Treasuries fell to a decade low of 163 basis points this month as buyers expressed optimism about China's economy and the region as a whole.
The political noises from China will start to kick in after the middle of October, which will shape market sentiments in the final quarter, said Arthur Lau, head of Asia ex-Japan fixed income in Hong Kong at PineBridge Investments. Investors have already turned slightly cautious on the absolute yield level given the low yield on treasuries, he said.

A tightening of bond spreads in September may be partially due to fewer than expected new issues from better Chinese names, according to Salman Niaz, executive director of emerging-market debt at Goldman Sachs Asset Management. While speculative-grade Asian issuers recorded improved credit metrics in the first half, Goldman Sachs Group Inc. analysts recommend investors look to better-rated names because of high risks surrounding low-quality borrowers.
S&P Global Ratings and HSBC Holdings Plc have warned of the potential for price corrections in Asian bonds amid tight pricing.

Asian bonds may return investors only about 0.2 percent in the fourth quarter after strong gains earlier in the year, JPMorgan Chase & Co. said in a report last month. The U.S. bank predicts a total return of about 5.7 percent for 2017, similar to last year, and says spreads on high-yield notes from the region are now "too thin" compared with investment-grade offerings.
Order books for Asian dollar bonds also fell in September, dropping to about 2.9 times, a low for the year, according to data compiled by Bloomberg News from available statistics. JPMorgan expects spreads on Asian dollar bonds to widen to about 240 basis points by the end of the year, up from a little over 230 at the end of the third quarter.

While there are some roadblocks in getting regulatory approvals for Chinese sales, borrowers that have the green light, will probably sell after the Congress, Clifford Lee, Singapore-based head of fixed income at DBS Group Holdings Ltd., said. Issuers in Asia ex-Japan have about $18 billion of dollar bonds maturing before the end of the year.
Away from China, borrowers from India and Indonesia have both sold in excess of $10 billion in dollar notes so far this year. Issuance from Indonesia is already at record pace.
"Indonesia is still a very strong story," said Neeraj Seth, head of Asian credit at BlackRock Inc. "So you still have a decent level of nominal and real yields in Indonesia, so the local bonds look attractive. In the dollar space, it looks fair."
Seth likes both hard currency and local currency India bonds. Defaults this year has made some investors wary of weaker Indian names, according to DBS's Lee.
Before it's here, it's on the Bloomberg Terminal.
LEARN MORE