This Billionaire Stock Picker's Shares Are Up 51% — But It's Not a Turnaround Yet
By
Kerr Neilson's Platinum is drawing investor cash once again

Analysts remain bearish on stock, which is up 54% since May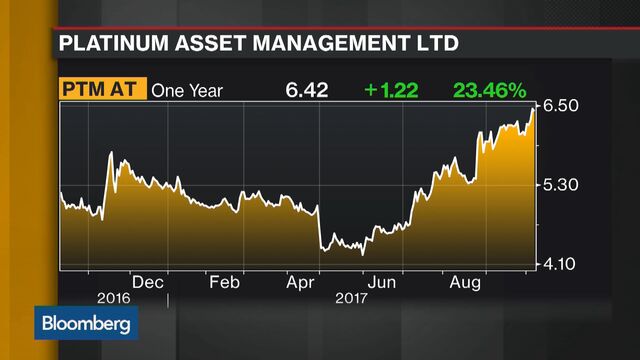 A run of good stock picking has stemmed the tide of outbound cash and spurred a 54 percent bounce in its shares. But for anyone who's held stock in Kerr Neilson's Platinum Asset Management Ltd. for more than a few months, it's too early to call it a turnaround. 
At least for now, stars are aligning for shareholders and clients of the 23-year-old firm as bets on Samsung Electronics Co., Tencent Holdings Ltd., PICC Property & Casualty Co. and the Chinese economy sent the billionaire's flagship international fund up 21 percent in the year through June. A smaller, unhedged global fund soared 36 percent, according to Morningstar Inc., performing better than any other Australian money manager.
The result was a rally in the stock between July and September that tops any quarter since 2009. But hold the bubbly: the gains have only clawed back less than half of the rout suffered in 2016, its worst year on record.
Platinum "was a very sick-looking business in May," said Chad Slater, co-chief investment officer at Morphic Asset Management, which had some bets against the stock as late as August. "Flows turned around much quicker than anywhere else in the world."
Funds under management, or FUM, are increasing after a year of net outflows, rising A$1.18 billion ($915 million) over July and August, according to the Sydney-based company's filings. Average FUM dropped 9.6 percent to A$23.4 billion in the year to June. As for the stock, it has climbed 24 percent so far in 2017 after dropping to a four-year low on May 31.
Platinum shares were priced to move when the rally began. At an all-time low of 7.4 times book value in May, the stock was trading at roughly half its average valuation since going public in 2007. It rose 1.9 percent on Monday to close at A$6.54, the highest since May 2016.

It's good news for Neilson, the 67-year-old managing director, whose Platinum International Fund fell 6.3 percent in the fiscal year ended June 2016. That was the worst performance in four years as Platinum focused on greater-China stocks over U.S. shares that were driving global markets higher.
"It is heartening to see a reversal of flows," Neilson, a former Bankers Trust Australia executive who set up Platinum in 1994 with George Soros as an investor, wrote in the company's annual report filed Sept. 22. As of August, the flagship fund had returned 12.8 percent since inception, twice as much as its benchmark.
Neilson, who owns about 53 percent of the A$3.8 billion company along with his ex-wife, Judith, wasn't available to comment further.
Analysts aren't convinced the tide has turned -- not one of the eight tracked by Bloomberg recommend buying the stock. They expect Platinum to post a third straight year of lower profit in 2018. Part of the reason is April's decision to cut management fees on the international fund and some others to 1.35 percent from 1.5 percent. Investors can also choose to pay a 1.1 percent fee along with a 15 percent outperformance charge for some funds.
'Wild Storm'
That change "shook" investors, who were already grappling with subpar performance at Platinum, said Morningstar analyst John Likos. "It was just a bit of a wild storm all at once."
Price-target cuts followed and the consensus is now at A$4.77, about 27 percent lower than Monday's close. To improve sentiment, Platinum needs to show a sustained improvement in net inflows, Morgan Stanley's Andrei Stadnik wrote in a report last month. He wasn't available to comment.

Platinum, which this year introduced exchange-traded versions of its international and Asia funds, known as ETMFs, to increase their allure, says its investment performance is the gauge to track.
"These investment returns, if sustained, may pave the way for increased profits and dividends, but only after a period of time has elapsed, as investors tend to take time to recognize and reward performance with increased funds," Chairman Michael Cole wrote in the annual report. The A$10 billion international fund returned 1.1 percent in July and 2.5 percent in August, beating the MSCI AC World Net Index in Australian dollar terms each month.
Before it's here, it's on the Bloomberg Terminal.
LEARN MORE