Why Fox Execs Will Be Glued to Soccer on ESPN Tonight
By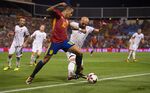 21st Century Fox Inc. has millions of dollars riding on a soccer match between the U.S. and Panama Friday, a test of the company's large investment in a sport more popular in Europe and Latin America than at home.
A loss for the U.S. would increase the chance the team misses the World Cup, which would hurt viewership of the event in the U.S. A win would all but assure the U.S. qualifies and bolster the advertising sales that media companies like Fox count on to profit from sporting events.
Not surprisingly, two of the three largest U.S. TV audiences for the last World Cup involved the U.S. The other was the final, Germany's 1-0 overtime win against Argentina, which drew the biggest soccer audience ever on U.S. television. The growing popularity of the sport convinced Fox to pay $400 million for the rights, stealing them from Walt Disney Co.'s ESPN, which is airing Friday's qualifying match at 7:35 p.m. New York time.
History favors Fox. The U.S. hasn't missed a World Cup since 1986, and has advanced past the group stage in three of the last four events. The 2014 Men's World Cup was the most-watched soccer event in U.S. history.
The U.S. sits in fourth place with two qualifying matches to play, and needs to finish third in its group to automatically qualify. It would participate in a playoff if its finishes fourth, and miss the World Cup if it finishes in fifth.
If the U.S. fails, Fox may find itself pitching America on a second team: Mexico.
Quotes from this Article
Before it's here, it's on the Bloomberg Terminal.
LEARN MORE