Weinstein Co. Hires Outside Firm to Review Harassment Claims
By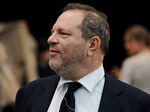 Film producer Weinstein Co. hired an outside law firm to review allegations of sexual harassment against its co-founder, Harvey Weinstein, and also appointed other executives to lead the company during his leave of absence.
John Kiernan of Debevoise & Plimpton LLP will lead an investigation into the claims against Weinstein, reporting to a special committee of independent directors, according to a statement Friday. The company has produced films such as Oscar nominee "Lion" and television shows such as "Project Runway."
Weinstein stepped away from the company temporarily on Thursday after the New York Times said he had reached settlements with at least eight women claiming to have been harassed by him. Among those agreeing to settlements were at least three employees and an unnamed actress, the Times said. Weinstein has denied many of the allegations and said the Times story was unfair to him.
"We believe it is important to learn the full truth regarding the article's very serious accusations, in the interests of the Company, its shareholders and its employees," board members Bob Weinstein, Tarak Ben Ammar, Lance Maerov and Richard Koenigsberg said in the statement. The company will be led by co-Chairman Bob Weinstein, Harvey's brother, and Chief Operating Officer David Glasser during the leave of absence.
"We strongly endorse Harvey Weinstein's already-announced decision to take an indefinite leave of absence from the company," the board members said. "It is important for him to get professional help for the problems he has acknowledged. Next steps will depend on Harvey's therapeutic progress, the outcome of the board's independent investigation, and Harvey's own personal decisions."
Before it's here, it's on the Bloomberg Terminal.
LEARN MORE