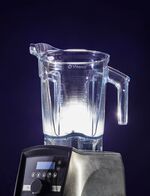 The Characteristics
For four generations, Cleveland-based Vita-Mix Corp. has produced the blender of choice for smoothie lovers. The company's top-of-the-line product in their Ascent collection, the A3500, is a countertop brutalist masterpiece—the base is offered in four finishes, including a new black brushed stainless steel. Beneath the sleek exterior is a 1,500-watt motor capable of producing 2.2 horsepower, spinning blades at up to 23,000 rpm, or roughly 240 mph. Chunky switches have been traded out for a touchscreen interface, and the containers are embedded with NFC chips that let the blender automatically customize settings for their dimensions, whether smoothies or bowls of soup.
The Competition
Vita-Mix largely had the lucrative blender category to itself until the last few years, when powerful, expensive food processors began roiling the market. At $620, the A3500 aims to reassert the company's dominance with worthwhile digital innovations and something approaching high design. Its 17-inch-tall, narrow jar curbs the splashing that torpedoes lesser rivals, and the new one-touch function eliminates the one advantage the $400 Breville Boss had. The $750 KitchenAid Pro Line is flashier, heavier, and pricier. Higher on the cost spectrum is Blendtec Inc.'s $1,035 Tom Dickson Extreme Blender, which has a compact size better suited for smaller kitchen counters.
The Case
There are five preset options for frozen desserts, smoothies, soups, dips, and spreads. Although a lushly photographed cookbook is included in the box, it's more fun to improvise based on what's on hand. Soup takes about five minutes and 45 seconds to make: Press the soup icon, then the start button, and the blender quickly whizzes up to full speed. (It's the friction from that speed that heats the soup, not any kind of heating element.) The blender makes quick work of uncooked rice for horchata, and it turns kale, apples, grapes, and bananas into a juice-stand-worthy drink. Even better, the Vitamix has a self-cleaning cycle that takes the scutwork out of dirty scrubdowns.
Before it's here, it's on the Bloomberg Terminal.
LEARN MORE