Putin's Former U.S. Ambassador Sees Little Chance for a Breakthrough Under Trump
By
'Anti-Russian' mood in U.S. won't ease for year, Kislyak says

Trump little different from Obama so far, ex-diplomat says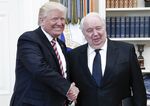 The "anti-Russian" mood gripping the U.S. is likely to dash any hopes of a breakthrough in relations under President Donald Trump for at least another year, according to the Kremlin's former ambassador to Washington.
"So far, all we see is a continuation of what was started by Obama," Sergei Kislyak, now a member of the upper house of Russia's parliament, said in an interview Wednesday in Moscow. "I don't see any major shifts, at least until the midterm elections" in November 2018, amid "great inertia in American political life," he said.
Kislyak said he's met once with Jon Huntsman, who took up his post as the new U.S. ambassador to Russia this week, and regards him as a "thinking man." While political divisions in Washington mean it's unlikely Huntsman can improve ties, "they have to come to some common-sense reality at some point," said Kislyak, who was Russia's U.S. envoy from 2008 until July this year. He was succeeded by former Deputy Foreign Minister Anatoly Antonov.
Kislyak became the toxic diplomat that few U.S. officials would admit to knowing amid congressional and FBI probes into alleged collusion between the Trump campaign and Russia in the 2016 presidential elections. He was dogged by controversy over meetings with fired National Security Adviser Michael Flynn and Trump's son-in-law and adviser, Jared Kushner, after U.S. intelligence agencies said Russia was behind a sophisticated effort to tilt the election in the Republican's favor. President Vladimir Putin has dismissed the allegations as "anti-Russia hysteria."
'Absolutely Arrogant'
After relations all but collapsed under the administration of Barack Obama, the Kremlin had high hopes that Trump's election would signal a new era in U.S. relations, particularly after he repeatedly praised Putin during the campaign. Those hopes have soured amid the swirl of allegations of Russian meddling in the election and confrontations with the U.S. over tit-for-tat expulsions of diplomats.
The U.S. is behaving in an "absolutely arrogant" way toward Russia, though it's unclear whether this will be a "long-term policy," said Kislyak, who's deputy head of the international relations committee in the upper house. While it's difficult to improve relations, "it's not impossible, all the more so because there are things that we and the Americans are interested to work on together," he said.
"I think objectively they'll understand at some point that it's in their interests to work with us as partners," Kislyak said. Right now, he said, U.S. officials are more focused on "political infighting than relations with Russia."
Before it's here, it's on the Bloomberg Terminal.
LEARN MORE