Pound Seen Doing Best Under Davis, Worst With Corbyn If May Goes
By , , and
Sterling seen collapsing if election is called and Labour wins

PM May being replaced with David Davis seen supporting pound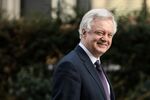 A Labour government would send the pound crashing to its weakest in 32 years, while an elevation of Brexit Secretary David Davis to prime minister of the U.K. would represent the best prospects for the currency.
With Prime Minister Theresa May's authority weakened and about 30 party members reportedly calling for her resignation, the pound is feeling the heat, set for its biggest weekly drop in a year and provoking memories of last October's flash crash.
Sterling traded at $1.3070 as of 10:51 a.m. in London as May's premiership hung in the balance. Below is a compilation of analysts' views on the outcomes and potential reactions from here:
May Stays
The pound could recover to around $1.31-1.32, "but not in a quick fashion given uncertainty is likely to linger every time she faces struggles," says Nomura International analyst Jordan Rochester
CIBC's Jeremy Stretch sees sterling drifting below $1.30 as "her authority is further weakened and as Brexit negotiations risk stagnating"

Sterling will "recover its latest Tory-related losses should May cling on and domestic political risks meaningfully ease," said Viraj Patel, a currency strategist at ING Bank

"The narrative will shift back to the Bank of England, with risks of the U.K. yield curve steepening further if Governor Mark Carney & Co. support a rate hike with a constructive outlook for the U.K. economy at the November BOE meeting," he says
Under this scenario, ING sees GBP/USD climbing to $1.33 and EUR/GBP falling to 0.8800 from 0.8951 now

What the charts say: Resistance to be discovered within the 1.3292-1.3343 area (the Oct. 4 high and Sept. 28 low)
May Ousted
Sterling will fall to $1.25 if May resigns and a leadership race is triggered, says Neil Jones, an analyst at Mizuho Bank Ltd. 
The prospect of a long drawn-out leadership contest that could see a pro-Brexit campaigner replace May is "not good for markets and not good for the negotiations and would send sterling clearly lower," according to Rochester
The pound would sell off initially "in the region of 3-5 percent," says Lee Hardman, a strategist at MUFG. "It is not clear who is the likely successor and therefore their views on Brexit"
"While certainly not our base case, a scenario of PM May stepping down –- and a Tory Party leadership contest in the near term –- could see the pound getting quickly dumped, with short speculative positions being rebuilt after the recent neutralization," according to ING's Patel

"First and foremost it would pose major doubts over a November BOE rate hike"
A dovish BOE re-pricing on its own could see GBP/USD tumble below $1.30, while a sustained increase in GBP's political risk premium could fuel a move lower to $1.26-$1.27

What the charts say: Support at 1.2589 (June 21 low) and then 1.2475 (76.4% Fibonacci of March-Sept. rally)
Davis Replaces May 
May resigning and being replaced by David Davis without the need for a leadership election is "still negative, but less so than the others as it rules out the hardest and most antagonistic Brexit candidates and makes another election less likely," says Adam Cole, Royal Bank of Canada's global head of currency strategy, who sees sterling at $1.25 under this scenario
Davis reflects a continuation of May's policies, according to John Hardy, head of currency strategy at Saxo Bank A/S, who sees the pound rallying to $1.35 after a period of volatility
ING's Patel sees the pound climbing to $1.3150 if Davis takes the helm because that would ease short-term pain for the currency
What the charts say: Resistance to be found at 1.3461-1.3514 (Sept. 27, 26 high)
General Election: Corbyn Wins
"The market will deem a Corbyn win as anti-business and still likely suffer with a hard Brexit," says Mizuho's Jones, who sees the pound falling to $1.10 under this scenario
The pound would weaken further on market fears of a left-wing government, says MUFG's Hardman, with Labour's soft Brexit views not enough to prevent an initial pound selloff
Factors including "budget risk and policy credibility would make a Labour-led government very difficult for the pound to live with, at least in the short term," said RBC's Cole, who also sees the pound dropping to $1.10 under Labour
Saxo's Hardy is an outlier and sees the pound staying close to $1.30 under a Corbyn win as the pound is already "severely discounted"
What the charts say: Price support at 1.1060, the lowest since March 22, 1985. Sterling's weakest level since the Brexit was higher at $1.1841
— With assistance by Emma Ross-Thomas, and Sejul Gokal
Before it's here, it's on the Bloomberg Terminal.
LEARN MORE