Pence Promises Long-Term Help for Storm-Stricken Puerto Rico
Jennifer Epstein and Toluse Olorunnipa
Vice president acknowledges recovery still has long way to go

Pence also views extensive damage in U.S. Virgin Islands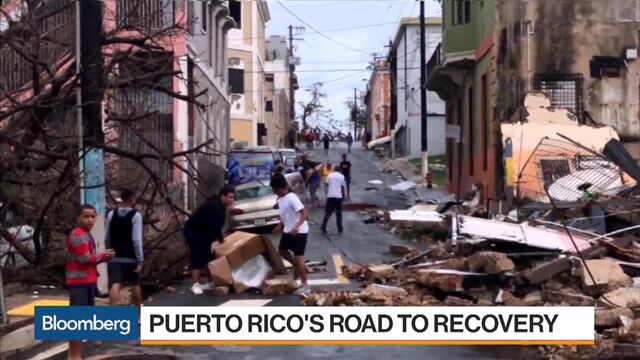 Vice President Mike Pence pledged that the federal government will continue providing assistance to Puerto Rico until the hurricane-ravaged island has fully recovered, saying there is still "a long way to go."
"We will be here for the long haul. We will be here until all the people can say with one voice 'Puerto Rico se levanta. Puerto Rico is rising'," Pence said Friday during a visit to Iglesia Santa Bernadita, a church in San Juan.
Pence, traveling to Puerto Rico two days after President Donald Trump visited with hurricane survivors and federal relief personnel, praised the government effort to provide food and resources to residents.
"But we have a long way to go. President Trump and I know this," he said. "We will see this challenge through."
Pence also said he "had faith" in Puerto Rico's governor and local leaders. Trump criticized the mayor of San Juan after she complained of inefficiency in the federal response.
The federal board overseeing Puerto Rico's troubled finances has cited estimates that the massive rebuilding effort needed could cost as much as $95 billion, roughly 150 percent of the island's economy.
Debt Load
Pence said that while the focus now is getting the U.S. territory back on its feet, there will be discussions within the administration and Congress about Puerto Rico's $74 billion debt. The island began a bankruptcy-like proceeding in May, the largest such process in the history of the U.S. municipal bond market. The island's debt-service payments have been on hold while it restructures its obligations in court.
"I'm confident we'll also be working with members of Congress to give the leadership in Puerto Rico the tools to address their long-term needs, including addressing the debt that Puerto Rico faces today," Pence said. "We'll work very closely with the leadership here in Puerto Rico as well as members of Congress."
Trump earlier this week rattled the $3.8 trillion municipal bond market by suggesting Puerto Rico's debt will have to be wiped out. His budget director, Mick Mulvaney, and White House press secretary Sarah Sanders later walked back the president's remarks, saying the debt will have to be dealt with through the existing bankruptcy process established under a law passed last year.
Pence and second lady Karen Pence visited the U.S. Virgin Islands earlier in the day and flew over St. Croix, St. Thomas and St. John. On all three islands, they witnessed roofs ripped off houses, mangled and leafless trees, and felled power lines.
The Pences, who were also traveling with Transportation Secretary Elaine Chao, the acting Health and Human Services secretary and the new U.S. Surgeon General, appeared at church services both in St. Croix and Puerto Rico.
Before it's here, it's on the Bloomberg Terminal.
LEARN MORE