Former First Lady of Mexico Says She'll Run for President as an Independent
By
Zavala left party to seek presidential candidacy in 2018 race

Anti-democratic conditions in PAN caused her to leave: Zavala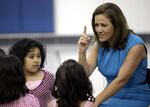 Mexico's former first lady Margarita Zavala left her party and said she will register as an independent candidate, a move that will likely split the country's largest opposition party and dim its chances to recapture the presidency.
The wife of former President Felipe Calderon, who served as his country's leader from 2006 to 2012, left the National Action Party on Friday ahead of an Oct. 14 deadline to sign up to run as an independent for the 2018 presidential election. Her decision to leave the PAN is seen by some as boosting three-time candidate Andres Manuel Lopez Obrador's chances of winning the presidency.
"I would like to have represented the PAN. I did everything in my hands to achieve that," Zavala said in a videotaped message uploaded to her Facebook page. But "anti-democratic conditions have been imposed in the PAN."
Zavala, who last served as a lower house lawmaker from 2003 to 2006, had been pressuring PAN leadership to grant her the presidential nomination, arguing that she was performing best among other PAN party contenders in early polls. While Zavala led in various surveys, other readings showed PAN President Ricardo Anaya closing in on leftist candidate Lopez Obrador, the early front-runner.
Shock Waves
Lopez Obrador has put markets on edge by seeking to reverse a landmark reform that allows private companies to drill for oil, which is why reports that Zavala would leave the PAN contributed to a peso slump Thursday, according to strategists from Nomura to Barclays.
The peso tumbled 1.2 percent Thursday to its lowest level since June and fell 0.2 percent to 18.5304 per dollar on Friday.
In some recent surveys, an alliance between the PAN and left-leaning PRD had even surpassed Lopez Obrador's Morena party as the early favorite for the July 2018 race. The ruling PRI party, which has yet to name an official candidate, has been polling in third place.
Zavala's independent candidacy may in fact help boost the PRI, as PAN members who no longer see their party as a viable competitor would more likely switch to the PRI than to Lopez Obrador, according to Carlos Bravo, a political scientist at Mexico City's Center for Economic Research and Teaching.
"My idea of the Panista voters is they might want change, but they want conservative change," Bravo said. "The PRI would give something very important to them, which is stability."
With Zavala's departure, Finance Minister Jose Antonio Meade's chances of securing the ruling PRI candidacy have increased, according to Eurasia Group. While he'd have the "baggage" of a deeply unpopular administration, he'll have the entire state apparatus behind him, according to a Eurasia report.
Presidential contenders who want to run as independents have until Oct. 14 to sign up after Mexico's electoral institute extended the deadline from Oct. 8.
Before it's here, it's on the Bloomberg Terminal.
LEARN MORE