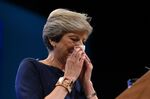 Theresa May's cough is turning into a cold for Mark Carney. The selloff in the pound is removing one of the few impediments to the Bank of England raising rates at its next meeting.

While the British Prime Minister's fate hangs in the balance, the knock-on effects are making it more likely that the Bank of England policymakers will have to make good on the rate rise they signaled in the minutes of their September meeting. 
Sterling's fall only makes that eventuality more likely as a weaker pound pushes imported inflation higher. Consumer price inflation is running at nearly 3 percent, well above the Bank's medium-term target of 2 percent. That's fueled expectations of a rate hike.

The pound has become the lightning rod for investors' fears about Brexit -- and it isn't taking kindly to the leadership crisis in the ruling Conservative party. The currency is poised for its worst week against the dollar since last October's flash crash.
And it may get worse still. HSBC this week repeated its view that the pound is under-pricing the risk of a "no deal" Brexit and expects sterling to fall to 1.26 versus the dollar. It's likely that if May were to fall, her replacement would come from the more pro-Brexit wing of her party. That would greatly increase the chances of a hard Brexit and economic turmoil.
Even though recent economic data has been on the soft side, the bank is still trying to rid the markets of the belief that rates won't rise through the Brexit process.
One of the more hawkish members of the monetary policy committee, Ian McCafferty, repeated the warning on Friday. He said the BOE has reduced the chance of an "unwelcome surprise" by signalling it may raise rates.
When the U.K.'s economy is undergoing its largest structural change for decades, this approach has raised some eyebrows. The Office for Budget Responsibility is on Tuesday expected to revise down its estimates of productivity over the past seven years. Wage growth remains anemic, putting pressure on the standard of living.

S&P Global Ratings warned on Wednesday that Britain's economy may not be strong enough to withstand a rate hike. Paul Watters, an analyst at S&P, was rather skeptical about how justified a hike would be.
"We believe the Bank and Mark Carney's recent statements are primarily aimed at propping up sterling to reduce imported price pressures."
The 10 percent rise in sterling over this year has helped Carney by stemming what would have been an even steeper rise in imported inflation. Its recent drop, if sustained, will make the monetary policy committee's task that more complicated. Talking about a rate rise isn't the same as implementing one.
Before it's here, it's on the Bloomberg Terminal.
LEARN MORE