New Murdoch Hacking Scandal Fuels Opposition to Sky Takeover
By and
Admission comes after six years of inquiries and litigation

Sky shareholder to vote against James Murdoch as chairman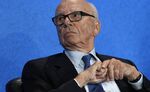 Opponents of Rupert Murdoch's bid to take over Sky Plc gained fresh ammunition after the billionaire's U.K. publishing arm admitted hacking computers, and his son ran into opposition as chairman of the pay-TV broadcaster.
News UK admitted "vicarious liability" Friday as part of a lawsuit settlement in London. The Irish edition of the company's News of the World tabloid hired a private investigator who hacked the computer of Ian Hurst, a former British Army intelligence officer, Hurst's attorney, Jeremy Reed, said. The interception of his emails took place more than a decade ago, after Hurst had written a book about his experiences in Northern Ireland.
Separately on Friday, Sky investor Royal London Asset Management said it would vote against the re-election of James Murdoch as Sky chairman, saying the board needs independent oversight, especially in light of the 11.7 billion-pound ($15.3 billion) offer from Murdoch's 21st Century Fox Inc.
The hacking admission and shareholder revolt feed into conduct-related arguments that the Murdochs' opponents have seized upon as they seek to derail the Sky deal. Questions about the Murdochs' corporate-governance failings have already helped to slow the transaction's regulatory review. Sky holds its annual shareholder meeting on Oct. 12, creating another opportunity to voice criticisms in front of 44-year-old James Murdoch, who is also Fox's chief executive officer.
"This is a dramatic new revelation in the saga of criminality in Murdoch's media empire," Tom Watson, the deputy Labour Party leader and longtime Murdoch antagonist, said about the court admission. "Despite being asked about the use of private detectives by the News of the World at a parliamentary committee in 2011, it's taken a 5-year civil case for the company to admit to further illegal behavior."
'Shocked and Appalled'
The U.K. Competition & Markets Authority is investigating whether Fox's acquisition of Sky would give Murdoch too much influence over the country's media. In addition, regulators have been asked to look at the company's broadcasting standards in light of hacking scandals in the U.K. and sexual harassment allegations in the U.S.
"After the initial shock of being informed that he was a victim of computer hacking and email interception, Mr. Hurst became increasingly shocked and appalled as he began to discover the extent of the unlawful activity against him," Reed said.
A spokesman for Fox referred queries about the case to News UK, which declined to comment on the disclosure. News UK agreed to pay Hurst a "substantial amount in damages," its lawyer said in court.
Hacking has dogged Murdoch's pursuit of Sky for years. In 2011, his News Corp. was on the verge of securing approval of its bid, only for the deal to be wrecked by revelations that reporters listened to voicemail messages on the phone of a murdered schoolgirl. The resulting scandal led to criminal and judicial probes, as well as the closure of the News of the World, the U.K.'s largest newspaper.
In addition, Murdoch split his media empire into two groups. Fox took over the film and TV assets while News Corp. kept the publishing titles.
'Unreserved Apologies'
"News Group newspapers is here today through me to offer its sincerest and unreserved apologies to Mr. Hurst," Anthony Hudson, the publisher's lawyer, said in court Friday. News UK "accepts that such activity happened, accepts that it should never have happened, and has undertaken to the court that it will never happen again."'
James Murdoch came under additional pressure Friday when Royal London Asset Management said that Sky shareholders "would be better served by a truly independent chairman." The fund manager, which said it holds a stake worth 44 million pounds, also took issue with the large payouts Sky executives will get if they are let go after Fox acquires the U.K.-based broadcaster, "regardless of their performance."
London Asset Management was among the shareholders that voted against James Murdoch's return as Sky chairman last year, raising the possibility of a Fox bid as a factor. (It came in December.) Last week, investor advisor ISS cited "significant shareholder dissent" in 2016 and no evidence that the board had addressed the concerns in recommending investors vote against Murdoch's re-election.
Fit and Proper
Avaaz, a political action group that's organized against the Sky bid, is asking a court to review the telecoms regulator Ofcom's June finding that Sky passes the so-called "fit and proper" test to hold a license. Fox has faced accusations of sexual and racial harassment at its news division.
"Today's shocking admission shows again why the Murdochs can't be trusted to own more U.K. media," said Alex Wilks, a campaign director at Avaaz, which opposes the Murdoch takeover. "Ofcom promised such evidence could spark a new fit-and-proper analysis, we expect them to keep their word."
While Friday's court admission is the first time News UK agreed that it hacked Hurst's emails -- after years of denials -- most of the allegations have been known for years. The issue was discussed at the Leveson inquiry into media ethics triggered by the hacking allegations.
— With assistance by Kaye Wiggins
Quotes from this Article
Before it's here, it's on the Bloomberg Terminal.
LEARN MORE