Las Vegas Victims Must Now Wrestle With Bills, Banks, and Bosses
Lawyers offer free help with the everyday issues as well as settling the affairs of 59 people murdered in America's latest gun massacre.
By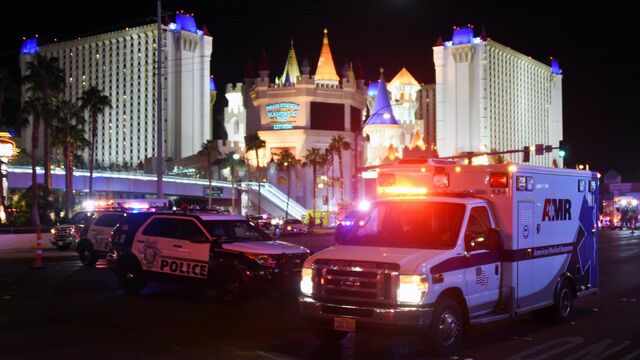 In an office just seven miles north of Las Vegas and the Mandalay Bay Resort, where a gunman killed almost 60 people and injured 500 others Sunday, Christine Miller runs through the scenarios. What will happen to the children of the injured already suffering after the biggest gun-fueled slaughter in modern American history? To their homes? To their bills? To their jobs? Their safety deposit boxes, their bank accounts, their phones?
In addition to long—if not impossible—roads to recovery both physical and psychological, victims of mass shootings often face an onslaught of legal challenges as they piece together their lives in the weeks and months following an attack. Loved ones of those killed will find themselves navigating ever-more complex legal territory when they attempt to settle the affairs of murdered wives, husbands, and children.
Mass murder by firearm is a regular occurrence in America, with its unique political landscape and a gun culture that makes it the biggest repository of civilian-owned guns in the developed world. Police, hospitals, and other emergency personnel long ago incorporated mass attacks into their training regimens. Now, too, have lawyers. In the case of the Las Vegas assault, Miller, a community outreach director at the Legal Aid Center of Southern Nevada, said dozens of staff attorneys are lined up to help with these often exhausting, complicated, and emotionally fraught tasks—free of charge. 
The State Bar of Nevada anticipates that Las Vegas shooting victims will begin reaching out for legal aid in the coming weeks. One of their attorneys was involved in assisting victims of the Charleston, S.C., massacre in 2015, when a white supremacist shot dead nine black churchgoers at the Emanuel African Methodist Episcopal church. "That tragedy had far, far fewer victims than ours, and so we anticipate to see an even greater need for a coordinated community legal response," Kimberly Farmer, executive director of the state bar, said in an email. 
 "It will just be a matter of the dust settling," Miller said. "People trying to recover from the emotional shock—then dealing with estate issues, immigration issues, child custody issues." 

The Legal Aid Center has 45 attorneys on staff, in addition to as many as 1,000 volunteer lawyers who take on cases pro bono for the center. "Our legal community has come together to offer support, and we have no doubt that they will do whatever they can to help," she said. 
In addition to custody and estate issues, Miller anticipates that victims will need assistance navigating complex health-care paperwork, coming to an agreement with their employers if they aren't able to return to work immediately, and resolving any debt collection issues that may arise if a bill goes unpaid while in recovery. For families of those killed in the attack, Miller predicted they will need help with benefits, as well as a go-between with banks, mortgage servicers, and even title companies. (The Legal Aid Center doesn't handle personal injury cases or wrongful death claims as a policy, she said.)
"We are mobilizing on the front end to be prepared and rallying the troops," she said. "There's just been an outpouring of support."
Before it's here, it's on the Bloomberg Terminal.
LEARN MORE