If Catalonia Declares Secession, Here's How Assets Respond
By and
Any declaration likely to only hit domestic bonds and stocks

Aberdeen Standard Investments is underweight Spanish bonds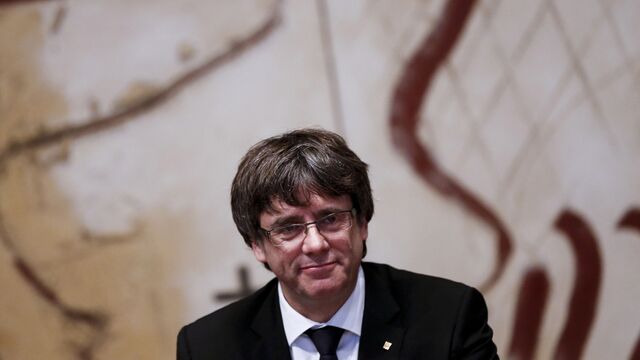 Should the leaders of Spain's Catalonia region declare independence in the coming days, European markets look poised to march on even as domestic assets take a major hit.
Spanish government bonds -- which have weakened since the vote -- could be one of the biggest losers, while the country's banking and construction stocks are also vulnerable to further drops. The euro may escape damage, as a rebel declaration would unlikely have immediate ramifications for the future of Europe.

"It is not a threat to the euro," said Jan Loeys, chief investment strategist at JPMorgan Chase & Co., in an interview with Bloomberg Television. "This is a local problem. There will be affects on the local banks, local asset prices -- yes, Spanish equity prices will be hurt a bit."
Spain has been roiled by escalating tensions between Catalonia, its largest regional economy, and the central government in Madrid. That has fed through into the nation's bond market, with the premium demanded by investors to hold 10-year bonds over similar-dated German securities rising to the highest level since May this week.
"Logic would dictate the Catalan government step away from the edge and reconsider their secessionist plans," said Jeff Donlon, managing director of global strategies for Manning & Napier in Rochester, New York, which manages $27 billion.
Donlon said alternatively a Catalan government declaration of independence "could result in a chain of events that includes more violence, new elections" regionally or nationally. "Such a scenario would likely lead to another leg down in the Spanish and European markets, which we would see as an opportunity to buy."
For a look at how Catalonia's isolation is growing as Spanish elite closes ranks, click here.
Spanish stocks have been hit, with the IBEX benchmark falling 1.9 percent this week. Stocks and bonds dropped on Friday, reversing a brief rally on Thursday after Bloomberg reported that separatists were trying to find a way to put off a definitive declaration of independence to create space for a negotiated settlement with Spain.
The Spanish 10-year bond yield spread to similar German bunds ended the week at 125 basis points, up 11 basis points in the week.
Spain's highest court on Thursday suspended the Catalan Parliament's plans to convene Monday, when it may have started a 48-hour countdown to a formal declaration of independence. The leader of the most powerful group among the separatists promised the regional parliament will meet as planned, defying the order, though stopping short of vowing a unilateral declaration.
'Uncertainty and Posturing'
Investors don't see the decision as causing an uproar in Europe. Instead, it would likely prompt a further decline in the country's bonds, according to Jack Kelly, a money manager at Aberdeen Standard Investments.
"The short-term narrative is likely to be more uncertainty and posturing from both sides," he said in emailed comments. "We maintain our precautionary underweight in Spain as we think the market hasn't sufficiently re-priced weaker on the recent developments."
Banco de Sabadell SA tumbled 6.2 percent in the week while CaixaBank SA slid 3.7 percent as the Sabadell-based lender decided to switch its registered office out of Catalonia and CaixaBank of Barcelona was said to be considering such a move. The deteriorating situation was blamed by energy supplier Gas Natural SDG SA for announcing on Friday it would relocate.
While shares in other Spanish companies, including construction firms, have faltered amid the turmoil, the pain hasn't spread. The Stoxx Europe 600 Index has climbed 0.3 percent in the week and closed on Thursday at its highest since June. Germany's DAX Index earlier this week closed at an all-time high.
"Spanish banking stocks are becoming the proxy for the Catalan tensions. Investors who want to trade on this crisis will be buying and selling these shares," Nicolas Cheron, head of market research at Binck.fr, an online brokerage, said by phone. "The good news for Europe is that there hasn't been contagion this time: the selloff has been limited to the Spanish market."
Before it's here, it's on the Bloomberg Terminal.
LEARN MORE