Eskom Had a Contract With Trillian Despite Its Denial
By and
Eskom documents show Trillian as vendor with contract number

Utility has asked Trillian, McKinsey to return payments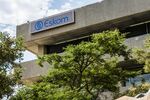 Eskom Holdings SOC Ltd. allocated a contract number to Trillian Capital Partners, a company to which it said it has made "unlawful" payments, according to documents seen by Bloomberg. Eskom has consistently denied that it has ever held a formal agreement with the company.
The South African state-owned power utility said on Thursday it will ask McKinsey & Co. and Trillian, which served as the U.S. consulting firm's local partner in a contract with Eskom, to return 1.564 billion rand ($114 million) it says it paid in total to both of the firms. Most of the 564 million rand paid to Trillian was transferred after McKinsey terminated its relationship with the company in March 2016, according to the documents. McKinsey, which received 1 billion rand, was concerned about the lack of transparency about Trillian's shareholders and their potential conflicts of interest, it said in a March 30, 2016 letter to Eskom seen by Bloomberg.
"There was never any contract with them, however what Eskom has acknowledged is that we have somehow made payments to Trillian even though they don't have a contract with us," Khulu Phasiwe, Eskom's spokesman, said by phone. Eskom is investigating how it made the payments, he said.
Eskom documents seen by Bloomberg show payments of almost 419 million rand were made to Trillian. Trillian was described as a vendor and its contract number was 4600061892, the documents show. One of the payments was made on the same day it was billed, while another two payments took three days. Decisions taken by Eskom on dealings with McKinsey and Trillian and the resultant payments were "unlawful," the utility said Thursday in a statement.
To read more on the relationship between McKinsey and Trillian
Eskom suspended Anoj Singh, its chief financial officer, in late September after placing him on special leave in July following the CFO being linked to a series of questionable deals including those with Trillian as well as coal contracts. Singh referred questions to Eskom when contacted by Bloomberg.
Trillian's spokesman didn't return phone calls and emails seeking comment. On Oct. 2, Trillian said it completed all the work allocated to it by McKinsey and billed for work authorized by Eskom. It didn't say who it billed. Documents seen by Bloomberg show it billed Eskom.
"McKinsey did not authorize any payment made by Eskom to Trillian and such payments were made after McKinsey informed Eskom that Trillian failed its due diligence," McKinsey said in a statement responding to Eskom's announcement on Thursday. The company said it couldn't comment on whether there was a contract between Trillian and Eskom.
Before it's here, it's on the Bloomberg Terminal.
LEARN MORE