Embattled May Gets Back to Business with Company Brexit Talks
By and
HSBC, Vodafone, Morgan Stanley among corporate attendees

Hammond, Clark, Fox, Davis also will attend Monday meeting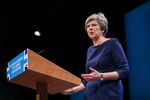 Embattled Prime Minister Theresa May is due to meet business leaders on Monday to discuss Britain's departure from the European Union, seeking to show she's in control as some of her own Conservative Party's lawmakers maneuver to oust her.
Executives from businesses including HSBC Holdings Plc, Morgan Stanley and Vodafone Group Plc will attend the talks, May's office said. It's the second meeting of a panel she first met with in July, and the first since she gave a speech in Florence, Italy, providing details of her Brexit strategy.
"The Business Advisory Council is an important part of our preparations for leaving the EU, allowing us to seek the views of experienced business leaders and to share with them the government's vision for a successful Brexit," May said an emailed statement on Friday. "Last month in Florence I set out my vision for a bold and unique new economic partnership with the EU. We are working hard to achieve this and are optimistic about our future as a global, free-trading nation."
The talks come as the premier battles crises at home and abroad. Progress in Brexit negotiations has been slow and EU leaders have signaled Britain may have to wait longer than expected to negotiate a trade deal. Meanwhile, about 30 Tory lawmakers have called her to go in a coup orchestrated by former party Chairman Grant Shapps.
May has been under pressure since gambling on a snap election in June in which she lost her majority, with the opposition Labour Party gaining seats. She's led a minority government supported by 10 lawmakers from Northern Ireland's Democratic Unionist Party. After being criticized for anti-business rhetoric during her first year in office, she's stepped up engagement with companies since the chastening election result.
Britain's negotiators head to Brussels for a final round of talks ahead of a crunch summit of EU leaders starting on Oct. 19 at which May hopes her counterparts will allow negotiations to move to the next stage. While Britain wants to progress to discussing a post-Brexit trade deal, European Commission President Jean-Claude Juncker and the EU's chief Brexit negotiator, Michel Barnier, have all but extinguished hope of that happening at the summit.
EU envoys are seeking more progress on three core issues before they'll give the go-ahead for trade discussions: the border with Ireland, Britain's exit payment, and the rights of citizens from both Britain and the EU27 living in each other's nations.
Chancellor of the Exchequer Philip Hammond, Brexit Secretary David Davis, Business Secretary Greg Clark and International Trade Secretary Liam Fox will also attend the meeting on Monday, as will leaders from the following businesses:
Balfour Beatty
WPP
HSBC
GSK
Morgan Stanley
Bridgewater
JCB
Vodafone
EY
Aston Martin
Whitbread
Nestle
ABF
Before it's here, it's on the Bloomberg Terminal.
LEARN MORE