Dudley Says Job Gains to Lift Inflation, Fed Should Tighten
By , , and
New York Fed chief repeats he's surprised by low inflation

Fed's Bullard says payroll report causes him concern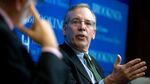 The Federal Reserve should keep gradually raising interest rates amid a tightening U.S. labor market that ought bring inflation back to its 2 percent target, said New York Fed President William Dudley.
"Even though inflation is currently somewhat below our longer-run objective, I judge that it is still appropriate to continue to remove monetary policy accommodation gradually," Dudley said Friday in New York, echoing comments he made in a speech last month.
Dudley's remarks indicate the Fed's leadership is largely sticking to its assessment that inflation, despite an unexpected decline this year, will bounce back, putting the U.S. central bank on track for another interest-rate increase in December. Fed Chair Janet Yellen, in a Sept. 26 speech in Cleveland, said it would be "imprudent" to hold rates steady until inflation rebounds all the way to 2 percent.

Fed officials have been wrestling with question of why a tightening labor market hasn't spurred more wage and consumer price inflation. Workers on U.S. payrolls declined 33,000 last month, according to data released Friday by the Labor Department in Washington, reflecting Hurricane Harvey's impact on Texas and Irma's fallout in Florida. At the same time, the unemployment rate fell to 4.2 percent, the lowest level in 16 years.
Despite the improvements in the job market, the Fed's preferred measure of consumer price inflation, which strips out food and energy components, declined to 1.3 percent in the 12 months through August, from 1.9 percent in January.
Dudley once again conceded it's possible that technological changes that facilitate increased competition are keeping the inflation rate low and could restrain it from returning to 2 percent, but he said the jury is still out.
"While some of this year's shortfall can be explained by one-off factors -- such as the sharp fall in prices for cellular phone service -- its persistence suggests that more fundamental structural changes may also be playing a role," he said. "Over the coming months, I hope that we will be better able to differentiate between these competing explanations."
Earlier on Friday, Dallas Fed President Robert Kaplan and Atlanta Fed chief Raphael Bostic both suggested they were open to raising rates in December, but were still undecided.
'Open-Minded'
"I think we ought to be patient," Kaplan, who votes on monetary policy this year, said in an interview with CNBC television. "I'm open-minded about December, but I'm not there yet."
Bostic, who votes on monetary policy in 2018, said in an interview that he's "definitely in a wait-and-see mode.''
"If we continue to see strength and that robust energy in the economy, I will be comfortable with a conversation about increasing rates. But we have to wait and see about those things," he said.
St. Louis Fed President James Bullard later said he was bit startled by the drop in workers on U.S. payroll last month and repeated his view that with no price pressures in sight, there was no reason to raise rates.
"I thought the market reaction was a little bit too nonchalant about this number," he told reporters after giving a speech in St. Louis. "I'm getting more concerned that we might make a policy mistake."
Before it's here, it's on the Bloomberg Terminal.
LEARN MORE