Bass Bets Greek Elections Called Within Year, Spurring Rally
By and
Greek stocks and bonds will jump 20% to 30% following election

Manager says bitcoin investors will lose 'a bunch of money'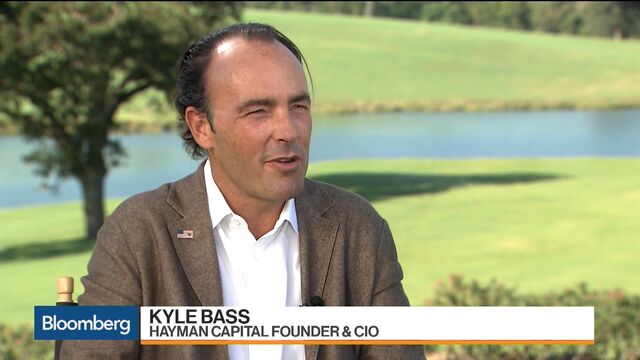 Hedge fund manager Kyle Bass is betting that Greece will experience a dramatic political turnaround, with elections called within a year, that will spur a rally across the nation's assets.
Bass, founder of Dallas-based Hayman Capital Management, owns Greek bank stocks, which he said are trading at a quarter of book value and provide the "opportunity to make several turns of your money unlevered over the next few years." Once elections are called, Greek stocks and bonds will rally 20 to 30 percent over the course of a week, he told Bloomberg Television Friday from his ranch in Texas.
Bass has taken issue with the International Monetary Fund's requirements of the European nation, writing in a Bloomberg View column last month that the lender is "torturing the country in a misguided effort to get its money back." The IMF has demanded a rigorous review of Greek commercial bank assets before the end of its bailout program next August. Bass thinks the economy, with the highest unemployment rate in the euro area, is finally beginning to show signs of a turnaround.
"You're starting to see green shoots, you're starting to see the banks do the right things finally in Greece, and you're about to have new leadership," he said. The country will have some "marquee privatizations" over the next two years, he added.
Early elections may occur if Prime Minister Alexis Tsipras calls them or if the government loses its parliamentary majority. Greece's current administration is a coalition of Tsipras's Syriza party and the smaller Independent Greeks party, who together only have a majority of three in Greece's 300-seat parliament.
Under Tsipras, some foreign investors have faced obstacles. Eldorado Gold Corp. suspended operations in September, citing delays in acquiring routine permits. While the company has since received a pair of permits required for a gold mining investment in northern Greece following international pressure on the Greek government, the company cautioned that a number of outstanding matters remain.
Eldorado Gold is the largest foreign investor in Greece and the dispute comes as the country tries to lure foreign capital to help it recover from its debt crisis. Since 2010, the country has been under bailout programs with stringent belt-tightening requirements. It has been working on attracting investments like Eldorado's to tackle high unemployment.
Bass also said:
The Chinese government will relax its focus on guarding the exchange rate and dealing with the Trump administration after the nation's party congress Oct. 18, which will shuffle China's top leadership and shape President Xi Jinping's influence into the next decade. "I think in the next nine months after October, you'll see the rubber hit the road," he said.
The appreciation of the yuan "has been terrible this year" for his hedge fund, which predicted that the yuan would fall more than 30 percent. 
Puerto Rico's creditors will be "wiped out" and recover 10 to 20 cents on the dollar. He decided not to invest in the municipality's debt. Read more here: Puerto Rico Investors to Get 10 to 20 Cent Recoveries, Bass Says
He regrets initially dismissing bitcoin, but still thinks there's a "digital gold rush" and that "people will lose a bunch of money." Over time, though, "it's a viable asset class."
— With assistance by Erik Schatzker, and Paul Tugwell
Quotes from this Article
Before it's here, it's on the Bloomberg Terminal.
LEARN MORE