Wells Fargo Directors Can't Duck Claims Over Fake Accounts
By and
U.S. judge allows investor case against bank board to proceed

CEO Sloan, ex-CEO Stumpf get insider-trading claims dismissed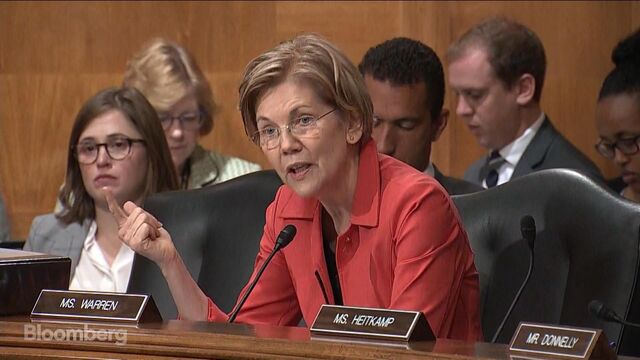 Wells Fargo & Co. executives and directors accused of steering the bank into the worst scandal of its modern history were ordered to defend a lawsuit accusing them of profiting from the creation of millions of fake customer accounts.
A San Francisco federal judge ruled Wednesday that shareholders can proceed with a suit alleging the company's top brass "repeatedly and brazenly" failed to serve Wells Fargo's best interests. He found the complaint properly laid out evidence showing executives and directors made false statements about the scheme in the bank's filings to the U.S. Securities and Exchange Commission.
The ruling came a day after U.S. Senator Elizabeth Warren attacked Wells Fargo Chief Executive Officer Tim Sloan while he testified before Congress, saying he "bragged" about high levels of new accounts even though he was aware of sales-practice problems at the bank. "You should be fired," the Massachusetts Democrat said. "You enabled this fake account scam, you got rich off it, and you tried to cover it up."
Del Galloway, a Wells Fargo spokesman based in Washington, didn't immediately respond to phone and email messages Thursday seeking comment on the case, which was brought by shareholders as a derivative action to seek restitution on behalf of the bank.
Wednesday's ruling didn't address the merits of the dispute and is only one of several procedural hoops investors have to jump through to get the case to trial. Tigar last month gave the plaintiffs and the bank permission to try to negotiate a settlement with a private mediator. A California state court judge in May dismissed similar allegations by investors, while allowing them to revise and refile their complaint.
Insider Claims
U.S. District Judge Jon Tigar dismissed insider-trading claims under California law against Sloan and Wells Fargo Chief Risk Officer Michael Loughlin, as well as former CEO John Stumpf and former head of community banking Carrie Tolstedt, both of whom left soon after the scandal became public. Tolstedt still faces an insider-trading claim under Delaware law.
An independent probe commissioned by the bank concluded in April that senior bank managers failed to heed warnings of spreading sales abuses for more than a decade, treating thousands of fired employees as rogues, and then downplayed the mounting terminations as the board began raising questions.
The bank also moved to withhold $32 million performance shares and cash bonuses from managers including current CEO Sloan and CFO John Shrewsberry. In September 2016, it forced Stumpf to forfeit $41 million in stock and Tolstedt to cough up unvested shares worth $19 million.
As of April, the bank had spent at least $445 million on fines, remediation, consultants and civil litigation. The company still faces a raft of investors' securities suits seeking to recoup losses from a $30 billion decline in market capitalization after the scandal broke and wrongful-termination cases filed by fired bankers. The company said in August its review found employees may have created 3.5 million bogus accounts, more than 60 percent higher than its initial estimate.
Tigar found the bank's board members and managers knew about the illicit account-creation scheme by 2014 and also knew they'd made false statements in securities filings about the program, designed to bump up bonuses for Wells Fargo employees.
"Just as it is implausible that the director defendants were unaware of the account-creation scheme given the extent of the alleged fraud and the number of red flags, it is implausible that Wells Fargo's senior management, involved in the day-to-day operations of the bank" weren't aware of the effort, the judge said.
The case is In re Wells Fargo & Co. Shareholder Derivative Litigation, 16-cv-05541, U.S. District Court, Northern District of California (San Francisco).
— With assistance by Laura J Keller, and Jesse Hamilton
Before it's here, it's on the Bloomberg Terminal.
LEARN MORE