Politics
Trump Slows Efforts to Cut Health-Care Costs
Undoing Medicare caps for joint replacements will cost $90 million.
By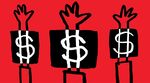 In April 2016 the federal Medicare program began an experiment to save money on the half-million hip and knee replacements it pays for each year. In 67 cities, Medicare capped the payments it makes to hospitals for joint surgeries and the months of follow-up care they require. By paying a fixed amount for the operation and recovery, the government encouraged doctors and hospitals to reduce unnecessary care, such as long stays in a rehab facility when physical therapy at home would work just as well.
The program, run out of an office created in 2010 called the Innovation Center, was an important part of Obamacare's goal of shifting the health-care system away from the fee-for-service model toward one that rewards positive outcomes. The idea is to lower costs over time by giving hospitals incentives to be more efficient, which would ultimately boost their bottom lines.
About 800 hospitals were required to participate during the program's first year of operation, which aimed to shave Medicare's joint replacement costs by 3 percent. In early August, the Innovation Center's director, Patrick Conway, announced he was leaving to run the BlueCross BlueShield plan in North Carolina. The next week, the federal Centers for Medicare and Medicaid Services (CMS), which houses the Innovation Center, announced a key change to the hip and joint replacement program. Now, the new payment arrangement will be optional for hospitals in half of the cities where it previously was mandatory. That change will increase Medicare costs by $90 million over the next three years, according to the agency.
The CMS also canceled two other programs planned to roll out in 2018 that were designed to cap Medicare payments for cardiac care and rehab. In September, the CMS announced that it was seeking a "new direction" for the Innovation Center and suggested it would take a more free-market approach. "We will move away from the assumption that Washington can engineer a more efficient health-care system from afar," CMS Administrator Seema Verma wrote in a Wall Street Journal op-ed on Sept. 19. While she acknowledged the need to change the fee-for-service system, Verma didn't detail what a new direction would look like, other than loosening requirements for doctors and hospitals to encourage market competition "that drives innovation in other industries."
Although Republicans in Congress failed to repeal the Affordable Care Act, the Trump administration is looking for ways to dismantle pieces of it. President Trump has threatened to suspend payments that lower insurance premiums and to cut back on advertising to boost enrollment. The latest effort to alter the law's attempts at payment reform could affect the nation's fiscal future, as health spending grows faster than the U.S. economy and drags on the budgets of employers, governments, and households.

An early experiment at Baptist Health System in San Antonio found that capping payments for joint replacements could lower costs by more than 20 percent, or $5,577 per patient, according to an evaluation in JAMA Internal Medicine in January. Most of the savings came from using less expensive implants and shorter stays in rehab. Tom Price, Trump's health and human services secretary, who resigned on Sept. 29 over his use of taxpayer money for private jet travel, objected while he was in Congress to the idea of mandatory capped payments. It's not clear whether Price's departure will change the agency's approach to the policy.
Concerns about cost, both from the government and private health plans, are "the overarching force that's driving change in the health-care system," says Michael Chernew, a health policy professor at Harvard Medical School. "One way or another, providers of all types are going to have to figure out how to survive on lower revenue growth."
While many in medicine believe the days of fee-for-service are numbered, the recent moves by the Trump administration have them recalculating the timing. Farzad Mostashari, who runs a company called Aledade Inc. that helps doctors organize cost-saving networks, says some practices that were on the fence about joining this summer have decided to wait. "It's not the 'if,' it's the 'when,' " he says. "What's the pace of change going to be?"
Putting mandatory changes on hold may give the government more time to tinker with them, says Amol Navathe, a University of Pennsylvania economist. "We don't have this licked yet," he says. "We don't have the perfect model." At the same time, it's not clear that market-based or voluntary programs can deliver the savings that mandatory changes will. "I'm an economist, I believe in markets," Navathe says. But "to try to stimulate the market to reform itself around quality has proven very challenging."
The effort by employers and health insurers to control costs may become harder if Medicare doesn't move in the same direction. The program covers 58 million Americans over 65 or with disabilities, spending $646 billion in 2015. "Without that 800-pound gorilla," Navathe says, most health insurers "just don't have enough market share" to steer medical providers into new payment structures.
The march toward payment reform will continue. A 2015 law will curtail physicians' Medicare payments starting in 2019 if they don't join some kind of new payment model, so the CMS will have to give doctors options. "I don't think the new administration, even if they wanted to, could have just pulled the rug out from under the new payment reforms," says Rob Lazerow, managing director of research at Advisory Board Co., a health-care consultant.
New payment models may allow the most efficient health-care providers to boost their profits while reducing overall costs. But ultimately someone will have to take a financial hit. "You can't have 5,500 hospitals that all have improved bottom lines, because if you have that, then value-based care probably hasn't worked," says Joshua Weisbrod, a health-care consultant at Bain & Co. "It probably hasn't taken enough cost out of the system."
BOTTOM LINE -
Although the GOP couldn't kill Obamacare, the Trump administration is undoing key parts of the plan to shift away from a fee-for-service payment model.
Before it's here, it's on the Bloomberg Terminal.
LEARN MORE