These Analysts Are Skeptical of Lasting Catalonia Equity Impact
By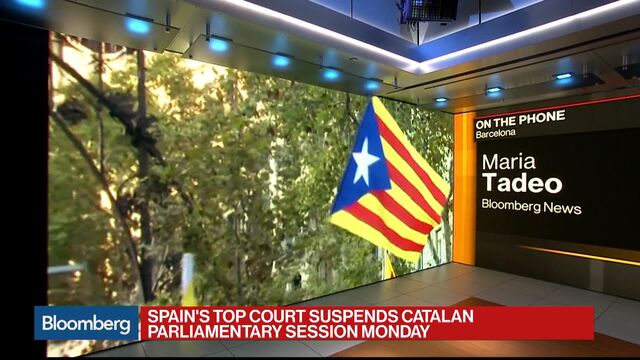 Spanish stocks are bouncing back after their worst sell-off since the Brexit vote, but with tensions over Catalonia's quest for independence still running high, European equity investors are asking: what next?
At least some analysts see the negative impact on financial markets, including equities, as moderate in the short to medium term and contained to Spain. The Stoxx Europe 600 Index, while drifting lower today, is still up 0.5 percent on the week, in contrast with the Spanish IBEX 35 Index's 2.7 percent loss over the same period.
"We have not experienced the contagion to other countries' asset prices like we did in the peak of the Eurozone debt crisis," City Index's research director Kathleen Brooks wrote in a note Thursday. "Independence, if it is granted, is likely to take an extremely long time to come to fruition, far too long for most investors to change their investment decisions at this stage."
Nicholas Brooks, head of economic and investment research at Intermediate Capital Group, agrees. While investors tend to overly focus on short-term movements when there is bad news, the Catalan vote is a domestic Spanish matter that will not substantially affect the rest of the region, he wrote -- it's not a risk on par with the rise of the Five Star Movement in Italy, which could prove a real threat to the euro.
Catalan President Carles Puigdemont yesterday called for outside mediators to help broker a settlement with the Spanish government. He said the regional government in Barcelona will soon apply the results of Sunday's makeshift vote, stopping short of saying how or when he would trigger the process to leave Spain.
Of course, not all are convinced equities are in the clear. Michael Hewson at CMC Markets cautions the story has further to run, and City Index's Brooks wrote that the IBEX remains at risk of another sell-off if tensions escalate.
"We are stabilizing a little today but events over the next few days will determine whether the worst is behind us," Hewson said in a message.
Before it's here, it's on the Bloomberg Terminal.
LEARN MORE