Politics
The Coal Fan With a Chance to Tip the Scales in Its Favor
Federal Energy Regulatory Commission interim Chairman Neil Chatterjee has to act quick.
By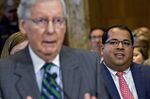 As an aide to Senate Majority Leader Mitch McConnell, Neil Chatterjee helped craft the GOP's strategy for challenging President Obama's Clean Power Plan. Now he's acting head of the federal agency that oversees U.S. power markets. Chatterjee, a Kentucky native and an avowed fan of coal, has a chance to give the fuel a boost against cheaper sources of power.
2017-Present 
Interim chairman, Federal Energy Regulatory Commission
2009-2017
Legislative aide, policy adviser, Senator McConnell
2002
J.D., University of Cincinnati College of Law
On Sept. 29, U.S. Secretary of Energy Rick Perry directed FERC to rewrite rules on power prices so coal plants can recover costs at "a fair rate of return." The request fits with Chatterjee's assertion that coal be "properly compensated" for its reliability, though critics say that lets the government pick winners and losers.
If carried out, the plan could keep plants from closing by letting prices be set in a way that takes their operating costs into account. That would fix their chief problem: Gas, wind, and solar prices have fallen below what coal plants need to cover costs.
Chatterjee has 60 days to modify or adopt the plan. And there's reason to act quickly. President Trump's official pick to head FERC, Jones Day lawyer Kevin McIntyre, is awaiting Senate confirmation. 
Before it's here, it's on the Bloomberg Terminal.
LEARN MORE