Saudis Say Russian Cooperation Breathed Life Back Into OPEC
By
Success of collaboration between nations is clear: Al-Falih

King of Saudi Arabia made first visit to Russia on Thursday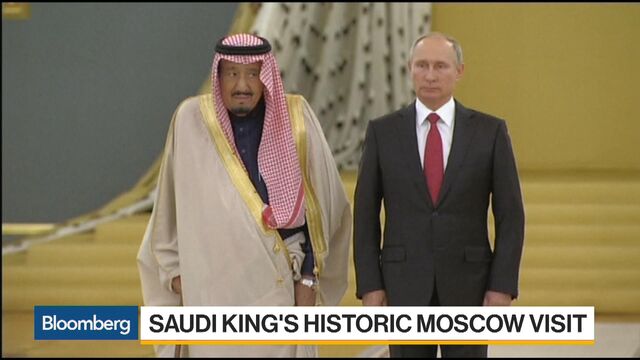 Cooperation between Saudi Arabia and Russia has "breathed life back into OPEC" and made the kingdom's oil minister more optimistic about the outlook for the market than he has been for several years.
The success of the collaboration between the world's two largest oil exporters is clear, said Saudi Minister of Energy and Industry Khalid Al-Falih. The relationship, which involves coordinated production cuts to eliminate an oversupply and joint energy investments, brings both short- and long-term gains, he said after a meeting in Moscow with his Russian counterpart Alexander Novak.

Al-Falih was speaking at the start of Saudi King Salman bin Abdulaziz's historic first visit to Russia to meet with President Vladimir Putin. The two nations -- joint architects of the supply agreement between the Organization of Petroleum Exporting Countries and other producers that has boosted prices -- are looking at ways to extend and deepen their relationship.
Russia is achieving its goals in the accord with OPEC and the oil market is rebalancing step by step, Novak said. Russia may agree to extend the oil-supply agreement until the end of 2018, Putin said Wednesday, although he'll wait to make a decision nearer the expiry of the existing pact in March. Saudi Arabia agrees on the need to be flexible and keep all options on the table, including an extension, Al-Falih said separately in an interview with Al-Arabiya television.
The Saudi courtship of Russia reflects a convergence of interests between the nations, both of which want to spur a recovery in crude prices. It's also a recognition by Riyadh of the changing political balance in the Middle East after Putin successfully countered indecisive U.S. efforts to topple Syrian leader Bashar al-Assad.
— With assistance by Nayla Razzouk
Before it's here, it's on the Bloomberg Terminal.
LEARN MORE