Pelosi Should Pass the Torch, Senior House Democrat Says
By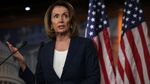 The fifth-highest ranking House Democrat said Minority Leader Nancy Pelosi should "pass the torch to a new generation of leaders," highlighting frustration only previously voiced by some rank-and-file members.
Representative Linda Sanchez, the vice chairwoman of the House Democratic Caucus, said Pelosi of California, as well as Minority Whip Steny Hoyer of Maryland and Assistant Minority Leader James Clyburn of South Carolina, should step aside to create more opportunities for younger members.
"They are all of the same generation and again, their contributions to the Congress and the caucus are substantial," Sanchez said on C-SPAN's "Newsmakers" in an episode set to air Sunday, according to The Washington Post. "But I think there comes a time when you need to pass that torch. And I think it's time."
Sanchez, 48, was elected to her current leadership position last year and previously served as chairwoman of the Congressional Hispanic Caucus.
Sanchez is the highest-ranking Democrat to call for Pelosi to step down. Some House Democrats expressed frustration with Pelosi in November, when nearly a third of them backed Ohio Representative Tim Ryan's bid to replace her. Some Democrats also called for new leadership after the party lost several special elections for seats vacated by President Donald Trump's cabinet picks. At the time, Pelosi defended herself as a "master legislator."
Pelosi's spokesman, Drew Hammill, said she "enjoys wide support in the caucus" and "is focused on winning back the House and anything else is a distraction from our path to the majority."
Before it's here, it's on the Bloomberg Terminal.
LEARN MORE