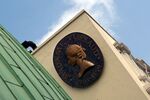 The man who runs Legoland and Madame Tussauds is in flag-planting mode again. But if Nick Varney wants to buy part of SeaWorld Entertainment Inc., he's going to need to persuade investors to come with him on day out in debt land first.
Merlin Entertainments Plc has approached SeaWorld about its Busch Garden parks, Bloomberg News revealed on Wednesday. While the assets would fit with Merlin's theme parks business, the deal wouldn't be a small one: analysts at Suntrust have estimated that SeaWorld could generate as much as $1 billion from selling its regional parks.
Merlin already has a little more than 1 billion pounds of net debt, or about 2.2 times its estimated Ebitda for 2017. Assuming that Busch Gardens' profitability per visitor compares with Merlin's existing resorts, it could contribute 45 million pounds of Ebitda annually. Factor in the a $1 billion acquisition price, and net debt would increase to roughly 3.5 times Ebitda.

Merlin, which was taken public by private equity backers Blackstone Group LP and CVC Capital Partners Ltd. in 2013, has cut its borrowings over recent years. This deal would take leverage closer to the level of when Merlin was in private hands.
To keep net debt below three times Ebitda, the level at which investors get nervous, Merlin would need to sell new shares to investors. That's something the company hasn't done since its IPO. Its only deal since listing has been a $34.4 million investment in Big Bus Tours.

The share price has also been hit by a warning in June that demand for some of its attractions was being hurt by terrorist attacks on the U.K. Although the shares have picked up over the past few weeks, the broader worry remains that with incomes squeezed by inflation running ahead of wage growth in its domestic market, some consumers could cut spending on days out.
Merlin shares rose by as much as 2.7 percent on Thursday, so investors don't seem overly alarmed by the possible Busch Gardens deal. After all, the company already operates Legoland parks, aquariums and Madame Tussauds locations in the U.S.
There is another comfort that shareholders can take: Merlin may not end up as the buyer. Busch Gardens is likely to attract interest from other parties, such as Walt Disney Co. and Six Flags Entertainment Corp. Merlin is known for being financially disciplined, having amassed its assets through acquisition under private equity ownership. Varney has led that process for 20 years. He can't afford to squander his reputation for being a savvy buyer now.
Before it's here, it's on the Bloomberg Terminal.
LEARN MORE