A 3-Day-Old Japanese Political Party Has Already Overtaken Abe's on Twitter
By and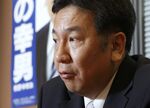 Welcome to Twitter, @CDP2017.
A Japanese political party formed just three days ago has already pushed Prime Minister Shinzo Abe's incumbents aside -- on social media, if not in the polls for the upcoming election.
The Constitutional Democratic Party, led by left-leaning former chief cabinet secretary Yukio Edano, formed on Monday from the liberal arm of the disintegrating main opposition party. Opening its Twitter account the same day, it's already picked up almost 124,000 followers, soaring past the 113,000 for the LDP's @jimin_koho and the mere 4,000 or so for Tokyo Governor Yuriko Koike's nascent Party of Hope (which has yet to earn blue-tick verification).

The account mixes campaign speech schedules with excerpts and photos of Edano's rallies. Users decorate their tweets with the hashtag "Edano stand up!," a line reminiscent of the "Edano, get some sleep!" tag that was popular when he was the bleary-eyed government spokesman updating the nation every few hours in the aftermath of the 2011 tsunami and Fukushima nuclear meltdown.
Unlike in the U.S. and Europe, social media platforms have yet to take center-stage in Japanese political elections. Koichi Nakano, a political scientist at Sophia University in Tokyo, says the aging society means traditional campaigning through television and newspapers still does better.
While the number of followers probably won't affect the final result of the Oct. 22 poll -- 7 percent of respondents in an Asahi newspaper poll published Thursday said they'd vote for the CD party, compared with 35 percent for Abe -- it does offer encouragement to liberals who have had slim pickings in recent years.
In the early hours of Thursday, the account signed off for the night. "Good night everyone," it tweeted. "Let's work hard tomorrow too."
— With assistance by James Mayger
Before it's here, it's on the Bloomberg Terminal.
LEARN MORE