House Russia Investigators Call Facebook, Twitter for Nov. 1 Hearing
By
Google also invited to public House Intelligence meeting

Lawmakers want to ask about Russian meddling in U.S. election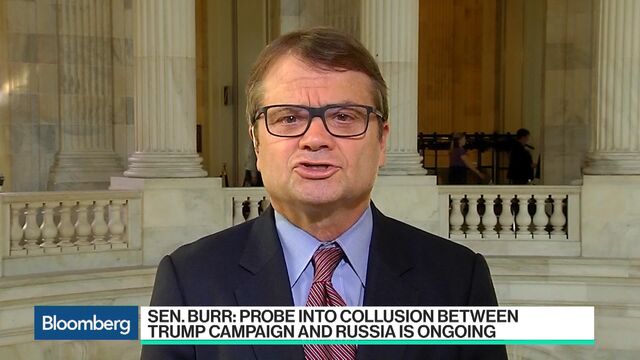 The House Intelligence Committee is asking officials from Facebook Inc., Twitter Inc. and Alphabet Inc.'s Google to testify publicly as part of its Russia probe on Nov. 1, the same day as a planned Senate Intelligence hearing, according to two people familiar with the decision.
That would set up a marathon day for the social media companies, which are facing increasing scrutiny over the role their platforms played in Russia's efforts to meddle in the U.S. election.
The House panel previously said it was looking at sometime in October to bring technology companies in for a hearing.
Facebook Chairman and CEO Mark Zuckerberg and Sheryl Sandberg, the company's chief operating officer, are unlikely to appear at either hearing, according to a person familiar with the matter. The company is announcing its earnings on Nov. 1, the same day as the scheduled hearings. The executives weren't explicitly invited, with members of both panels more interested in hearing from officials who can address the technical aspects of how Russia used the social media platform.
Facebook has turned over more than 3,000 ads purchased by Russian entities to both congressional investigations. The ads show that Democratic strongholds like California, New York and Maryland were targeted along with the battleground states of Wisconsin and Michigan, according to a Republican official on the House Intelligence Committee.
Twitter has said it gave the panels a roundup of advertisements by RT, a TV network funded by the Russian government that was formerly known as Russia Today.
"I just read the Facebook ads and watched some of them, as well -- the Twitter ads, as well. And it's clear they were using the most divisive issues they possibly could," House Intelligence Committee Democrat Mike Quigley of Illinois said on Bloomberg TV Thursday. "The real issue would be how did they target."
"The tech community needs to play a role in addressing this working with the American public," Quigley added.
The Senate panel's top Democrat, Mark Warner of Virginia, said at a news conference Wednesday there is a "large consensus that they hacked into political files, released those files in an effort to influence the election" and that Russia used social media platforms "to drive chaos and division in our country."
Social-media companies didn't initially take the threat of Russian interference seriously enough, but "they are recognizing that threat now," Warner said.
— With assistance by Sarah Frier
Before it's here, it's on the Bloomberg Terminal.
LEARN MORE