For a Better Look at U.S. Payrolls, Wait for Oct. 20 State Data
By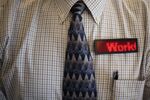 The September U.S. employment report due on Friday is bound to be affected by the impact of Hurricanes Irma and Harvey, which walloped the south starting in late August. But state-by-state data due Oct. 20 will allow economists to strip out that impact for the rest of the country.
"Rationally, investors and the Bureau of Labor Statistics will have a very poor idea of the hurricane impact this coming Friday," Steven Englander, head of research and strategy at Rafiki Capital Management in New York, wrote in a note. "But it probably will not stop markets from reacting to the data when it is released and ignoring the more informative Oct. 20 release."
The median forecast for Friday's release is an 80,000 gain in nonfarm payrolls, less than half the average 182,000 rise since the start of last year. Englander calculated that the gap between the rolling 12-month average for payrolls nationally and for the U.S. minus Florida, Texas, Louisiana and Georgia was about 55,000 -- going back to the start of last year.
Before it's here, it's on the Bloomberg Terminal.
LEARN MORE