Five Things You Need to Know to Start Your Day
Get caught up on what's moving markets.
By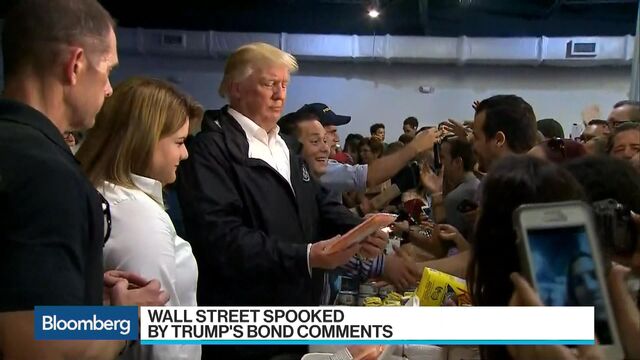 Want to receive this post in your inbox every morning? Sign up here
Puerto Rico is running out of money, Spain says Catalan independence can't happen, and the Russia-Saudi Arabia meet begins. Here are some of the things people in markets are talking about today.
Money's tight
Puerto Rico's general-obligation bonds due in 2035 dropped to 32 cents on the dollar in trading yesterday after President Donald Trump suggested the island's debt may need to be "wiped clean" to aid the post-hurricane recovery. Mick Mulvaney, director of the White House budget office, attempted to walk back the president's pronouncement suggesting Trump meant Puerto Rico will have to figure out how to manage its debt. The immediate concern for the government of the U.S. commonwealth is that it's effectively out of cash, and will not be in a position to collect some taxes for at least another month due to the destruction caused by the hurricane. Delays in sending aid to the island may reflect, in part, its challenged fiscal position. 
Hardball
Spanish Economy Minister Luis de Guindos said independence for Catalonia is out of the question, and ruled out entering discussions with secessionists in a Bloomberg Television interview this morning. Catalan President Carles Puigdemont reiterated an offer for mediation talks with Madrid in an address yesterday, while stating that the regional government will apply the results of its makeshift vote soon, without proposing a timetable. The uncertainty is reflected in businesses, with drugmaker Oryzon Genomics SA seeing its shares rally as much as 33 percent yesterday after announcing it would move to Madrid from Barcelona. Catalan bank stocks were among the hardest hit as fears rise that depositors will start moving money to other Spanish lenders. 
Moscow meeting
Saudi King Salman bin Abdulaziz is due to meet Russian President Vladimir Putin in Moscow today with a possible extension of the deal to cut oil output likely to dominate talks. The kingdom's energy minister Khalid Al-Falih said cooperation between the world's two largest oil exporters has "breathed life back into OPEC." Crude has fallen from recent highs this week, with a barrel of West Texas Intermediate for November delivery trading at $50.17 at 5:45 a.m. Eastern Time, after trading below $50 earlier in the session. 
Markets quiet
U.S. stocks posted a fresh record high yesterday but equity moves around the world are more subdued. Overnight, MSCI Asia Pacific Index was little changed as much of the region was on holiday, while Japan's Topix index slipped 0.1 percent. In Europe, the Stoxx 600 Index was 0.3 percent lower at 5:45 a.m. as Spanish worries prevail. S&P 500 futures were broadly unchanged, the 10-year Treasury yield was at 2.325 percent and gold was slightly higher at $1278.14 an ounce. 
Coming up...
At 7:30 a.m., the European Central Bank will publish an account of its September meeting, which investors will read closely for hints on how and when it will start tapering its quantitative-easing program. In the U.S., initial jobless claims data at 8:30 a.m. will give one last look at the jobs market ahead of tomorrow's nonfarm payrolls number for September. At 10:00 a.m., the final print of August factory orders is due, while Federal Reserve Governor Jerome Powell, San Francisco Federal Reserve Bank President John Williams, Philadelphia Fed President Patrick Harker and Kansas City Fed President Esther George are all due to speak.
What we've been reading
This is what's caught our eye over the last 24 hours.
Before it's here, it's on the Bloomberg Terminal.
LEARN MORE