Harvey Weinstein Takes Leave Amid Sex-Harassment Allegations
By and
Oscar-winning producer denies many of the accusations

At least eight women received settlements, N.Y. Times reports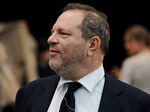 Harvey Weinstein, the movie mogul famous for releasing Oscar winners such as "The English Patient" and "Shakespeare in Love," took a leave of absence from his production company following allegations of sexual harassment raised in a New York Times article Thursday.
Actress Ashley Judd was among the people claiming to have been harassed by the producer, who has been a fixture in Hollywood power circles for more than four decades. Weinstein has reached at least eight settlements with women, the newspaper reported, citing unnamed officials at the Weinstein Co., the film and TV production company Harvey founded in 2005 with his brother Bob. Among those agreeing to settlements were at least three employees and an unnamed actress, the Times said.
Lisa Bloom, an attorney advising the producer, said in a statement that "he denies many of the accusations as patently false."
Weinstein, who was known for aggressively promoting his films at Oscar time with carefully calculated campaigns designed to woo Academy Awards voters, is best known as the founder of Miramax, the film producer with a name derived from his parents' first names. The brothers sold that business to Walt Disney Co. and ran it for several years, clashing at times with management over the release of films such as Michael Moore's "Fahrenheit 9/11."
Some of the allegations against Weinstein have been public for some time. Two years ago the Manhattan district attorney's office said it wouldn't pursue charges against Weinstein following a complaint that he groped a 22-year-old Italian model. A spokesman for Weinstein said at the time that the movie executive would be fully vindicated. The New York Times said an Italian model was among those who received settlements.
"I came of age in the '60s and '70s, when all the rules about behavior and workplaces were different. That was the culture then," Weinstein said in a statement. "I have since learned it's not an excuse, in the office -- or out of it. To anyone. I realized some time ago that I needed to be a better person and my interactions with the people I work with have changed."
Charles Harder, another attorney working with Weinstein, said in a statement that the article was "saturated with false and defamatory statements" and that his client is preparing to sue the newspaper. Harder is best known for winning a $140 million invasion of privacy lawsuit on behalf of wrestler Hulk Hogan against the website Gawker.
Hollywood has long had to grapple with its image as a place where the "casting couch" determined roles for actresses, as men with the power to make or break careers took advantage of young women of talent and aspiration.
Sexual harassment claims against media and entertainment luminaries have made headlines over the past year, revealing how businesses large and small have overlooked charges and legal settlements, letting powerful men continue their behavior for years without consequence.
Among those facing criticism were Fox News Chairman Roger Ailes and host Bill O'Reilly, both of whom lost their jobs following allegations of harassment and settlements regarding their behavior. The trial of Bill Cosby on charges of sexually assaulting a former college sports administrator, one of several dozen women who made claims against the comedian, ended in a mistrial this year.
In her statement, Bloom, who is the daughter of noted women's rights attorney Gloria Allred, said Weinstein has acknowledged that he has made mistakes and that he is reading books and going to therapy to make himself a better person.
"He is an old dinosaur learning new ways," Bloom said.
The Weinstein brothers got their start producing rock concerts in their hometown of Buffalo, New York. They segued into movies and are among the people credited with bringing art-house films into the mainstream with early hits such as "Sex, Lies and Videotape," a big winner at the Cannes and Sundance film festivals in 1989.
More recently the pair have had success with "Project Runway," the fashion competition on the Lifetime TV network. Three years ago the Weinsteins sought to sell a stake the TV-production arm of their business.
Weinstein Co. has had less success in films, with their output shrinking and release dates delayed. This year the company has grossed $122.6 million in North America from seven films, led by last year's Oscar nominee "Lion." That compares with the peak in 2013, when it released 18 movies grossing $463 million, including "Lee Daniels' The Butler," according to Box Office Mojo.
Before it's here, it's on the Bloomberg Terminal.
LEARN MORE