Eskom Seeks to Recover 'Unlawful' Payments to McKinsey, Trillian
By
South African utility wants $115 million in fees returned

Eskom wrote to companies 'requesting cooperation' after probe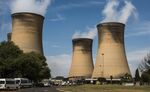 Eskom Holdings SOC Ltd. said it will ask McKinsey & Co. and Trillian Capital Partners to return "unlawful" payments that the South African power utility has made under arrangements with the companies.
Eskom is seeking the return of 1 billion rand ($73 million) from McKinsey and 564 million rand from Trillian, the power utility said in an emailed statement on Thursday. Trillian was the so-called supply development partner of McKinsey in an agreement it had to provide services to Eskom until the relationship between McKinsey and Trillian ended in March 2016.
Eskom is at the center of allegations that the politically connected Gupta family used their relationship with President Jacob Zuma to win lucrative contracts from state companies. The Guptas and Zuma have denied any wrongdoing. Trillian, a financial services firm, is linked to the Gupta family through business associate Salim Essa, who was its principal shareholder until he sold out in July.
While Eskom previously denied having done business with Trillian, the utility said in July it would commission an independent investigation into work done by the company and disclosed 495 million rand of payments it had made to it.
A spokesman for Trillian didn't immediately respond to a phone call or email seeking comment. 
Read more: South Africa Minister Says Eskom Lies an Attack on Democracy
"The interim findings from Eskom investigations into the circumstances surrounding payments made to both the companies point to certain decisions by Eskom, and resultant payments, as being unlawful," the company said in its statement. "It is in the public interest to do everything we can as Eskom to claw back all the fees which were unlawfully paid."
McKinsey met this week with Eskom to discuss the utility's internal investigations, the U.S. company said in a statement late Thursday.
"We are encouraged that Eskom is willing to cooperate with us in an independent process to ensure the turnaround program arrangements were lawful," it said. "While Eskom's interim findings centre on the decisions which Eskom took in connection with its compliance with the public procurement regulations, McKinsey is reassured" by some of the details of what Eskom presented. 
According to McKinsey, the findings included that:
There was no subcontract between Trillian and McKinsey.
McKinsey informed Eskom on March 30, 2016, that McKinsey was terminating its interactions with Trillian after it failed McKinsey's due diligence, and Trillian would not be a sub-contractor for McKinsey on the turnaround program.
McKinsey didn't authorize any payments made by Eskom to Trillian and such payments were made after McKinsey informed Eskom that Trillian failed due diligence.
Eskom wrote to both companies to explain the action it will take and requested their cooperation, the utility said in its statement.
Before it's here, it's on the Bloomberg Terminal.
LEARN MORE